Different Types of Social Work Degrees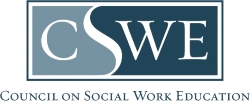 There are currently over 700 different Social Work Programs accredited at the Bachelors and Masters levels by the Council on Social Work Education (CSWE), while other programs are considered candidates and are under review. As of the October 2016 COA meeting, there are:
---
Bachelors of Social Work
There are currently 774 universities providing Bachelor's of Social Work degrees throughout the country. Of these 774, 511 are accredited by the Council on Social Work Education. Choosing an accredited college provides learners with a sense of relief in knowing that their degree will be accepted for future licensure.
Bachelor of Social Work degree programs can be obtained through traditional in-person colleges as well as online platforms. Online learning is becoming more popular as the years progress, making this a great option for busy professionals wanting something extra for their professional life. The widespread availability of degree programs can potentially open doors for students from all backgrounds. One of the most common degree paths for social work is at the bachelor's level.
Social Behavior and Public Service
The Bachelor's degree program in Social Work really dives deep into social behavior and public service – pulling together the various aspects of both that draw them together. These 4-year programs are suitable for individuals that wish to build a foundation in social work and potentially move to higher degree programs in the future. While in a bachelor's program at this level, students will be taught the skills required to work with the public.
Additional Topics for a BSW Degree
Community planning, social welfare and relationships to the judicial system, mental health topics, and administrative functions are taught in depth throughout this program. Students will learn about the various functions of social service agencies and how their contributions will lead to better lives for individuals throughout their career. The schematics of local and government agencies are also taught in the bachelor's program, which can prepare learners for careers working for state or government agencies. The knowledge gained throughout these programs can provide a solid platform of social skills that can contribute to a meaningful career for those involved.
Career Options for a BSW
Wondering what can be done with a Bachelor's Degree in Social Work is completely normal when considering this degree program. A degree can be a means for a better life, so considerations for future potential should always be a part of the decision process. It is always important to consider how much a degree can provide not only financially, but also with regards to quality of work.
Are There Licensing Requirements?
Licensing for social workers can be obtained at the bachelor's level in some states, but most states require master's degrees or higher in order to be licensed through the state. It is important for applicants to review their state's current standards prior to choosing the right degree path. At the bachelor's level, graduates have the potential to seek out careers in many different fields in the social domain.
Careers are available as mental health assistants – providing care and planning for individuals under the care of licensed mental health practitioners. Bachelor's level social workers can also work for welfare agencies providing case planning and outreach for families receiving food and healthcare assistance from their respective states.
Youth care facilities that foster troubled youth also seek out social work professionals to fill positions such as activities coordinators and youth service officers. Various positions in community planning and administration also rely on knowledgeable social work professionals to fill their positions.
---
Masters of Social Work
Throughout the country, 327 colleges offer Master's in Social Work programs. 249 of these programs are CSWE accredited, so it is vital to review each program prior to applying. A Master's program is designed to train practicing professionals in order to create more knowledgeable and experienced social workers in the field.
Why Pursue a MSW?
Pursuing a Master's degree in Social Work is a proud and exciting quest. The Master's in Social Work degree opens learners up to the potential for licensing as well as more employment capabilities throughout a career. What a master's degree means for upcoming students is a more in-depth look into the social work field and the opportunity to work hands on with the public during typical course studies.
Master's programs integrate the social knowledge gained in undergraduate studies with the application of theories and practices in an in-person setting.
Online MSW Programs
Online Master's Degrees in Social Work are also available through online, non-profit universities, making it a convenient choice for individuals that have families or current careers to maintain. Many universities are bringing their CSWE-accredited program online, while others are getting their established Online MSW program CSWE accreditation.
View Online CSWE Accredited MSW Programs.
Online learning allows students to embark on independent learning and time management, which are important skills for social work professionals. Regardless of whether or not students to choose to pursue this degree in traditional environments or online, accreditation ensures that the curriculum is on point and accepted by future employers.
Depending on personal preferences, one specialty may be more fitting for some than others. Regardless of which path is chosen, the curriculum within the master's program is fitting for the most dedicated professionals.
Although obtaining a Master's degree or higher in Social Work is an amazing achievement, it is not the end of the line for those seeking LCSW licensure. Social workers work directly with the public, so it is important to understand the professional and ethical concerns associated with positions of such value.
Due to the importance of these positions within society, most states place requirements on educational standards, experience, and personal history or applicants requesting licensure.
Licensing for MSW Graduates
Some states allow bachelor's level graduates to become licensed upon graduation and completion of an exam and experience requirements, but most begin licensure at the master's level. Depending on which state a student resides, he or she may be qualified for licensure after only a bachelor's degree. Researching individual state requirements will ensure that applicants are knowledgeable of what their state requires and prepared for the road to licensure as they move along.
One state notes that applicants should have a degree from an accredited university. Master's level applicants in this state are not required to take part in supervised work experience, but must pass a master's level exam. Once these steps are completed, graduates are considered licensed to work in the social work field within their state.
All Types of Social Work Degrees
Council on Social Work Education – CSWE
Accreditation is a label that is affixed to degree programs that are approved by higher learning organizations. For social workers, an important organization to remember is the Council on Social Work Education.
This organization is the highest accrediting board for social work educational programs. When seeking out potential degree programs, it is extremely important to determine whether or not the chosen program has been accredited by this organization.
Accreditation of these programs provides learners with the assurance that the degree program is relevant and covers everything needed for a fruitful and ethical career.
Degree programs that are not accredited by the CSWE may not be accepted by certain states with an application for licensure and even some employers. Putting heart into a degree program is something that will pay learners off for a lifetime. It is worth the extra time to ensure that the degree programs available provide the same worth in the end.
Social Work CAS by the CSWE
SocialWorkCAS is a unique featured created by the CSWE that enables students to discover and apply to schools through the same platform. Schools are also able to communicate through this platform.
Becoming a Licensed Clinical Social Worker
Licensed clinical social workers are found within many different areas of the community. In schools, social workers can provide educational reference and advice to students as well as working as advocates for children in need of guidance. Some social workers work for state agencies and maintain contact with educational institutions in an attempt to find more effective methods of providing education and support to students.
Social workers at this level can also pursue meaningful careers working with welfare agencies in an attempt to help families find better means of employment, medical or mental health services and even legal assistance. Master's level social workers act as a third party in connecting community members to the services that they need.
Hospitals work with social workers to find outside resources for their patients as well as support groups and medical insurance providers. Social workers act as advocates for children and the elderly in situations that require intervention and potential home placements. In the mental health field, social workers are an important part of maintaining a proper treatment program, both inside and outside of the home.
Being a master's level social worker provides the opportunity to make a difference in the lives of people from all walks of life. Learn more about LCSW careers here.
Choosing a Social Work Degree
Choosing social work as a degree path is a step in life that can potentially lead to better careers, more enjoyment and career fulfillment. There is definitely a sense of pride in knowing that this degree program provide so much for communities and the residents within.
However, with the high number of available online and in-person degree programs, it is important to consider what accreditation means not only for a degree program, but for licensure and potential careers in the future.