<!- mfunc feat_school ->
Featured Programs:
Sponsored School(s)
<!- /mfunc feat_school ->
Those who have served in the military know firsthand what it means to hold oneself to the highest standards in service to the greater good. They also likely know how taxing this work can be, and how urgent the need is for supportive services for military members who are struggling with all sorts of issues, from challenging circumstances to mental health concerns.
Those who have served in the military can be among the strongest resources for those in the service or other veterans, having unique insight into military culture and the pressures of a soldier's immense responsibilities.
Indeed, many who retire from military service feel moved to put their experiences toward helping others in their position. Fortunately, there are many ways veterans can put their skills to use in the social work field, and many individuals and families who could benefit from their specific support.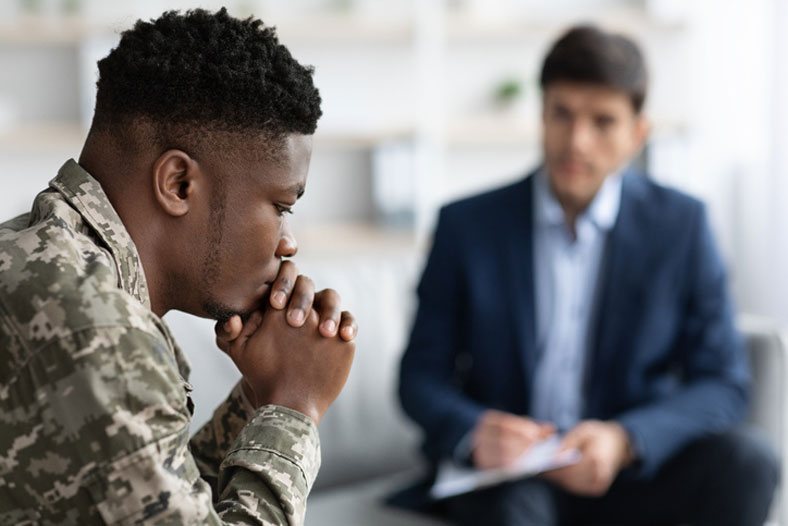 This article will cover all the opportunities for veterans in the field of social work, from degree offering options to social work jobs for veterans to the military benefits that can help you achieve your career goals as efficiently as possible. If you are a veteran, or a prospective candidate for the military, who would like to learn about how you can become a social worker, read on.
The Invaluable Perspective of Veterans in the Social Work Profession
As a veteran social worker (that is, a social worker who is also a veteran), you will be able to offer a different kind of support than social workers who have not served. It is hard for those who have not served in the military to understand the complexity of military culture, the difficult conditions of serving for soldiers and their families, and the confusion of life after leaving the service. Veterans, however, are intimately familiar with these experiences, having lived them firsthand. This is one reason why many choose to get involved in veterans' social work, providing a thoroughly understanding ear to those in need.
This is not to say that the military is homogenous. The population of military personnel is diverse both in background and in needs. All races are reflected in the army's ranks, with more than one third identifying as a racial minority. While the military still skews heavily male, its gender diversity is rising, with sixteen percent of military personnel identifying as female. Age similarly skews young, for understandable reasons, but many officers (more than a quarter) are 41 or older.
The military is not only diverse in backgrounds and ages but in needs. There are a wide variety of challenges one can face while serving and after, including:
Emotional distress. Those who serve in the military can face stressful and even traumatic circumstances, and across the board experience the difficulty of being away from their families for long periods of time. Social workers can help individuals process these feelings and move forward with their lives, whether it is while they are still in the military or once they've finished their deployment.
Financial hardship. The unique pay and benefits arrangements for military personnel can be confusing to navigate, and many experience financial hardship during or after their service. Social workers can help people build literacy in the program offerings available to regain control of their finances in the long run.
Career confusion. After leaving the military, many struggle to set up long-term career paths for themselves, whether due to the lingering emotional impact of their time in the armed forces or the difficult logistics of pursuing a degree through military education offerings.
Given the variety of concerns current and former military officers face, there is a wide variety of social work jobs to address their needs. Social workers perform a wide range of services, from mental and behavioral health support to housing assistance and other welfare needs and more. You may find you are drawn to an area that aligns with your own personal history. While this is certainly not a requirement, many who have dealt with great difficulties in their pasts find healing and purpose helping others with the same needs.
How the Military Can Build Skills For a Social Work Career
While the day-to-day of a military officer is vastly different from that of a social worker, you may be surprised by some of the overlapping responsibilities of each profession. Those in the military, especially in leadership positions, frequently take on duties that are not far from a social worker's, such as:
Counseling
Welfare checks
Service referrals
Maintaining documentation and records
If you go into the military hoping to eventually become a social worker, you will be rewarded by the experience you get in the field. Those who are debating career paths after their military service should reflect on these duties; if they suited your skills and disposition, you may find you're an excellent candidate to become a veteran social worker.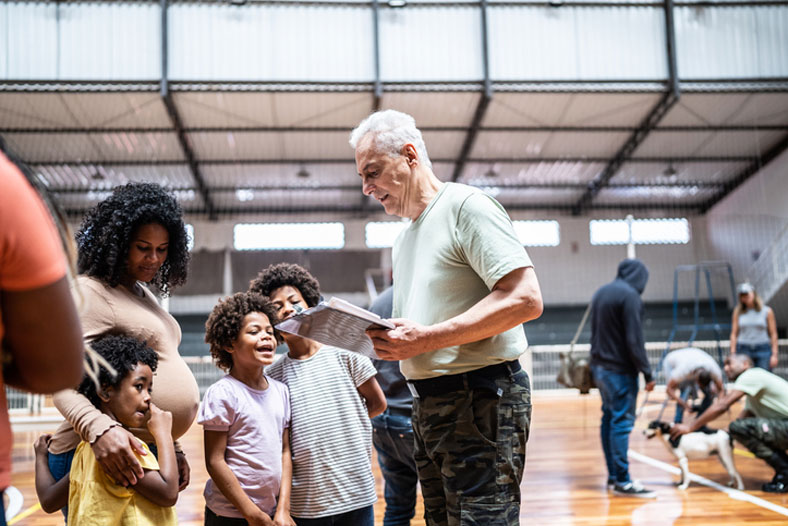 Social Work Jobs for Veterans
While one does not have to work directly for the military in order to be involved in veterans' social work, there are several specialist positions within the Army, Navy, and Air Force. These roles are all commissioned officers working with other active-duty military personnel.
Some of the titles for the MOS positions whose responsibilities overlap with social workers include the following:
Air Force – 3F1X1 Support Services / 3F4X1 Equal Opportunity
Army – 42A Human Resources Specialist
Navy – Personnel Specialist / Navy Counselor rating
Marine Corps – 0147 Equal Opportunity Advisor
These roles will prepare you well for the duties of a social worker. Those who plan accordingly can run with this experience and make use of military benefits to pursue their MSW after discharge and continue their pursuit of social work.
Navigating Military Education Benefits to Jump-Start Your Veteran Social Worker Career
While it is rare to become a social worker prior to serving in the military, it is a path available for those who know they would specifically like to take on this work. This is possible through ROTC programs, which provide scholarships (two, three, and four years) that allow you to pursue a college degree while also receiving your officer training. This training is rigorous, preparing you for leadership roles within the military.
While some of the skills built in ROTC training may not be useful if your ultimate goal is to become a social worker, it is a path that will allow you to complete the better part of your social work degree before enlisting. Some students then choose to defer their enlistment by two more years to complete their social work degrees.
How Student Loan Repayment Can Help You Accomplish Your Goals
If you are seeking to become a social worker after service, you have reason to breathe a huge sigh of relief: social work employers have access to programs that can repay your student loan debts from $40,000 to $65,000, depending on where you have served. Veteran social workers are fortunate to pick a career path that offers such benefits.
If you are in the Army or Navy, your loan relief program is the Student Loan Repayment Program. If you are in the Air Force, you can turn to the Health Professions Loan Repayment Program.
(It is important to note that these benefits are treated as income, meaning you will pay tax on them at the end of the year. The amount covered is subject to negotiation when you join the armed forces.)
How your Military Benefits Can Help You Seek Social Work Credentials After Enlistment
Those who intend to pursue social work careers after enlistment, you will be able to find a great deal of support in your military benefits. These include:
The G.I. Bill®: Provides 36 months of in-state tuition alongside housing and supply stipends. This is available to veterans and some active duty service members.
Military tuition assistance: Pays up to $4,000 annually toward any degree you pursue on your own time (limited to $250/credit). Available to all service members.
Yellow ribbon program: Adds on to the GI Bill® with additional funds to match hefty private college or out-of-state tuition rates.
There are also enlisted commissioning programs available for each service, meaning it is still possible to join the ROTC after you have already enlisted.
All of the above offerings are available to service members across the board. Those in the Army who are intent on pursuing social work have an additional option: The Army Master of Social Work program. In order to apply, one must already hold a bachelor's degree in a social service field. If accepted, you will be put through an accelerated 14-month MSA at a private university by AMEDD, the Army Medical Department, and then commissioned as an officer in the Medical Service Corps.
Credentialing Opportunities On-line (COOL) Offers Key Social Work Credentials Free of Charge
Another resource for active service members is COOL, a benefit program from the Department of Defense which offers a database of private sector licenses and certifications that relate to various MOS positions. It also offers up to $4,000 toward any classes or tests needed to earn those certifications. For social workers, that can include major professional requirements like the Advanced Generalist Social Work Licensing Examination.
This is a way to begin working towards your career aspirations even while you are still in the service.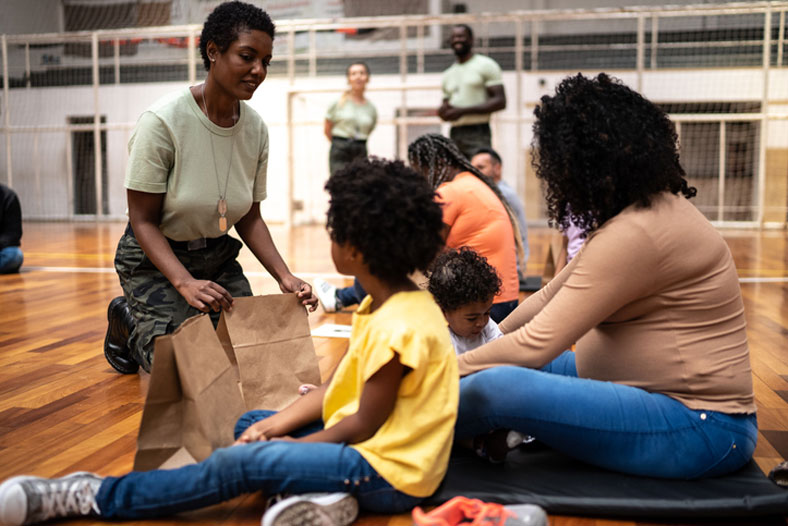 Social Worker Salaries
Social workers can work in a wide variety of circumstances, from government agencies to schools to nonprofits. This means their salaries are also likely to vary greatly depending on where they work and what their area of specialty is.
According to the Bureau of Labor Statistics, social workers across the board in the United States earned a median annual salary of $55,350 in 2022. Broken down by specialty, the median salaries are as follows:
It's worth noting that this pool encompasses professionals with all levels of social work preparation, from BSW through to more specialized positions. Those who are LCSWs (Licensed Clinical Social Workers) are more likely to earn higher-paying salaries, as they hold a high level of expertise and are therefore qualified for more advanced jobs. Those earning in the top ten percent of mental health social workers received a mean annual salary of $97,660 or more in 2022.
Social Worker Degrees
If you are certain you'd like to become a social worker, the next step is plotting your educational path.
There are positions available for those of all educational backgrounds in the field of social work, but direct counseling and clinical practices require an MSW and, in some cases, further credentialing.
If you don't yet hold a bachelor's degree, a Bachelor of Social Work (BSW) is the degree that will most directly prepare you for a Master's of Social Work (MSW) curriculum. However, a BSW is not required in order to apply for an MSW, and many enroll having developed prior expertise in subjects like psychology, counseling, and human services.
The importance of finding military-friendly colleges
When considering your educational options, it's important to keep track of which schools are military-supportive. These institutions are designed to cater to the unique needs and challenges faced by military personnel and veterans. One significant way they provide assistance is through flexible academic programs that can accommodate the demands of military service.
Military supportive colleges offer the resources to help you navigate the complexities of using GI Bill benefits, tuition assistance programs, and other forms of financial aid. These colleges frequently have veterans' resource centers on campus, offering a supportive community where military-affiliated students can connect, seek guidance, and access resources like counseling services and career assistance. Overall, military supportive colleges create an environment that will make it easier to pursue your educational dreams with minimal barriers, ensuring that you are better prepared for civilian life and future career opportunities.
The MSW Curriculum
In order to become a clinical social worker – one entrusted with full supportive responsibilities – one must hold a Master of Social Work degree from a CSWE-accredited institution. These are typically two year programs that will orient you in overall approaches to social work and the various specialties available in the field.
After your first year of your MSW, you are likely to be asked to choose your area of specialization. Some veterans will choose to take on causes that relate to the needs of those who have served or are serving in the military, though you are by no means obligated to do so.
Your second year of your MSW is also likely to include field work, which is considered by most institutions to be an indispensable part of your social worker education. This will show you the ins and outs of a social worker's day to day life, giving you hands-on experience in your chosen profession. It is possible if you have attended your master's program before enlisting to complete your field work hours through programs like SWIP, the Army Social Work Internship Program.
FAQs
What resources and educational opportunities are available to veterans interested in transitioning into a career as a social worker, and how can they best leverage their military benefits to pursue this path?
Many veterans can take advantage of educational benefits like the GI Bill to obtain the necessary degrees and certifications for a career in social work. Additionally, various organizations and programs offer mentorship and career transition support tailored to veterans pursuing social work as a profession. Read the above section for more information on military education benefits.
What unique skills and experiences do veterans bring to the field of social work, and how can these assets benefit their clients and communities?
Veterans can be immensely helpful as social workers, as they often possess a deep understanding of the challenges faced by individuals with military backgrounds which makes them particularly adept at providing support to fellow veterans and their families. Their familiarity with military culture and systems can enhance their ability to navigate and advocate for veterans' needs within the social work profession.
How can existing military education programs help bridge the gap between military service and a career in social work?
Military education programs typically offer career counseling, licensure preparation, and connections to agencies that value the skills and perspectives of veterans. This support helps veterans successfully transition into meaningful social work roles, ultimately benefiting both them and the communities they serve.
Search the Top Programs in Social Work