<!- mfunc feat_school ->
Featured Programs:
Sponsored School(s)
<!- /mfunc feat_school ->
Social work puts skilled professionals out into the community working face-to-face with people at their most vulnerable. It's not a job for anyone without a lot of compassion and patience. It takes the kind of selfless attention to the needs of at-risk populations that inspires action in situations where others wouldn't be so quick to get involved.
Becoming a social worker takes courage, and the people skills to be both decisive and diplomatic in sensitive situations. It also takes advanced knowledge of policy and community resources in order to direct people to the services they need. Social workers are skilled counselors and interventionists. They're tireless advocates for underserved and under-represented populations, and a lifeline for those on the margins of society.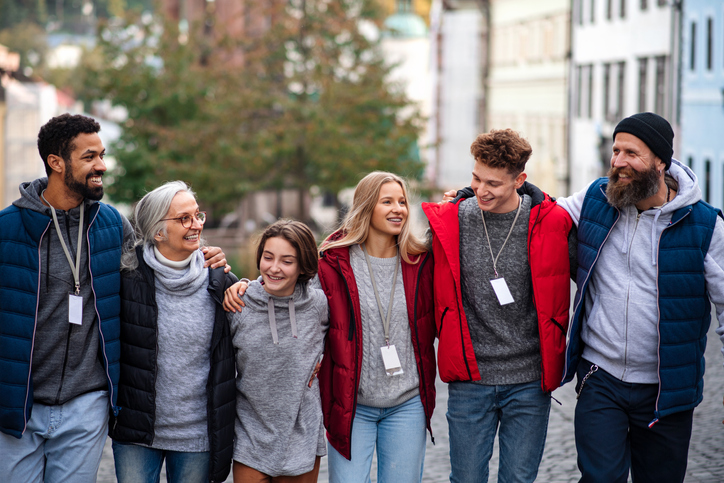 This makes social work a line of work where advanced, field-specific training and state licensure are standard.
As the basic requirement to become a licensed clinical social worker (LCSW) in every state, a Master of Social Work (MSW) provides the entry-point to careers where the most impactful work in social work is happening.
For anybody serious about a career in social work, the decision to earn an MSW is an easy one. Sometimes the bigger challenge is in simply deciding whether to earn that degree online or to go with a more traditional, campus-based option.
Particularly now, in the post-pandemic world, online degrees have more than established their place as the go-to option. Even in hands-on fields like social work, online degree programs are now the path more frequently traveled, no longer thought of as just a more convenient alternative to showing up on campus every day.
The unique benefits of online degree programs speak for themselves. They give students more agency over their studies and offer a level of flexibility that in-person programs just can't compete with.
Online MSW Programs Offer the Flexibility Today's Grad Students Need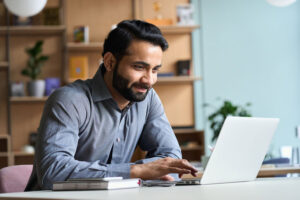 Getting started in a graduate program and then maintaining the momentum to make it through the steps it takes to achieve career goals requires a careful balance between personal and family life, work commitments, and school. Online MSW programs offer the flexibility today's busy grad students need to pull it off.
With multiple start dates throughout the year, a streamlined curriculum that offers a condensed and rigorous learning experience, and asynchronous classes that let students time-shift studies around work and family obligations, online MSW programs offer more choice in how to prioritize the demands of life. That flexibility also means more freedom in choosing the site-based, hands-on fieldwork MSW students need to prepare for careers in social work. It all comes together to create more ways to make school fit into the busy lives of modern grad students, and fewer barriers to achieving career goals.
As the dean of the College of Education and Social Work at Aurora University, Dr. Brenda Barnwell, DSW, has seen first-hand the benefits that online learners are able to take advantage of. We had the privilege of speaking with Dr. Barnwell and other faculty members at Aurora University Online (AUO) to find out exactly what makes the online experience the clear choice for so many MSW students today.
As Dr. Barnwell explains, "In some programs where you must start in the fall, you take pre-scripted classes throughout your time and they're only available in a particular term." But Aurora University Online places a strong emphasis on flexibility, removing barriers that might prevent prospective grad students from getting the MSW they need to build a career in social work or advance in the field. As Dr. Barnwell explains, "Students have six different points of entry to even start the program, as well as the ability to schedule out courses that are available all year long in many different ways, different modalities, and different time frames."
For social work graduate students holding down jobs or raising families, online MSW programs are without a doubt the best option, and many times the only option.
Online MSW Programs Come with the Freedom to Look for the Best Fieldwork Opportunities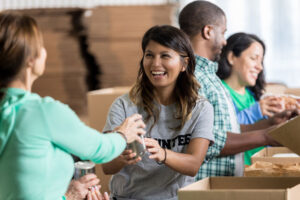 Social work is a state-licensed profession, similar to other public-facing roles that require specialized skills, stringent practice standards, and a commitment to professional ethics. Each state independently establishes a set of social work licensure requirements, with a board in place to maintain standards, vet applicants, and issue licenses for social workers in any number of specialized roles.
Though there are some variations on the requirements for the LCSW and other licensure spelled out in state bylaws in different parts of the country, there are two things that are universal from state-to-state: a specified number of hours of pre-professional experience and an MSW or similar graduate degree. There isn't an accredited Master of Social Work program anywhere in the country that doesn't include fieldwork as a graduation requirement, and many assist with field placements through both paid internships and externship programs. As convenient as it might be to have field placements lined-up, it can put some restrictions on the options available to MSW students.
With online MSW programs, students often have more control when it comes to choosing the social services agencies they work with while stacking the hours they need to meet graduation requirements and qualify for licensure. Rather than being put into a pipeline that directs students to agencies within the school's network, online students have a greater level of freedom in selecting agencies that serve different roles for different communities. This effectively puts online MSW students in a better position to get the kind of real-world experience that aligns with their career goals, allowing them to make meaningful contributions to the people and communities they hope to work with in professional practice.
Alison Arendt, MSW, LCSW, and associate professor of social work and director of graduate studies at Aurora University, believes that this freedom of choice is a major highlight of the online MSW program offered at AUO.
"We do encourage students to check out what's in their local area," Arendt told us, "because they're going to stay in that local area most likely." Additionally, students will be able to build roots in these communities long after graduation. "We want them to be able to establish networks and just understand how different places function."
As Arendt sees it, this kind of first-hand experience proves invaluable as students move into the field. Students orchestrate all of the fieldwork connections themselves in order to, "…make a choice based on what's a good fit for their goals."
The connections students can make by having a hand in choosing their own fieldwork placements can also bring about some unexpected benefits later on in their careers. "There's lots of support while students are looking for the internship, when they secure the internship, when they begin the internship, and when they finish the internship," Arendt offered. "There's all sorts of field personnel that make contact with the student and the organization throughout that process."
These points of contact effectively create the beginnings of a professional network, putting students in touch with people and agencies they can reach out to long after graduation for everything from potential job prospects to professional guidance and advice.
Virtual Networking Creates Real-Word Opportunities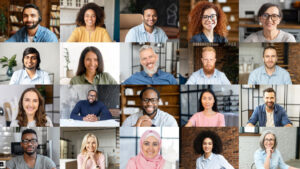 One of the hallmarks of an online MSW is that students are able to engage directly with the very same social work alumni network they will be a part of after graduation. By cultivating student-alumni networks, MSW programs help put students in contact with seasoned social workers with many years of experience to draw from.
With the help of networking programs, today's social work graduate students often find amazing fieldwork opportunities they may have otherwise overlooked, owing it all to the recommendations they get from former students in their community who have been through the same process.
For the guidance they need to make the most of their fieldwork options, Aurora University's online MSW students work directly with alumni who sit on the school's field advisory committee. Field advisors are eager to share their experiences, and having been through the same process themselves, they're in a unique position to provide answers that students can't find anywhere else. They also often point the way to fieldwork opportunities that are worth exploring.
As Arendt puts it, this creates the perfect opportunity for students to, "…become part of the community of social workers." She goes on to explain that former MSW students, "…might return to AUO in that capacity or even as field instructors. Later on, they'll work with our students when they're professionals in the field."
This alumni networking channel creates the kind of opportunities for support, relationship-building, and mentorship it takes to ensure an amazing student experience and a successful career in social work.
The Sense of Purpose that Comes from Earning an MSW Can Last a Lifetime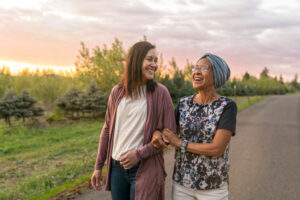 There are few careers that bring as much satisfaction and deep sense of purpose as social work but it's a line of work that also has its moments. Connecting people with the exact support and resources they need precisely when they need it doesn't always come easy. Anybody working under the pressures of heavy caseloads and funding constraints is going to be susceptible to job fatigue, and social workers are no exception. In high-consequence areas of practice including mental and behavioral health treatment, forensic interviewing, and child social work, the stakes are particularly high, and so are the burn-out rates.
Feeling overwhelmed at times is part of life and doesn't have to mean succumbing or giving up. This is the very thing that social workers find themselves telling clients so frequently, and it's advice they'd be wise to take to heart themselves. One of the best ways for social workers to stay inspired is to keep the connections they make with colleagues and mentors, maintaining the relationships they build in school and through fieldwork. Students can be sure that the field advisor they turned to for help finding the perfect internship will be honored to be considered a mentor, and happy to take the call when they reach out later, even if it's just to talk through a particularly challenging case or painful episode.
By their nature, social workers are compelled to help. They are listeners, friends, and mentors to the clients they serve, and those qualities carry right on through to their personal and professional relationships.
This kind of mentorship has the power to change lives. As a lecturer of social work at Aurora University, Joe Oleck, LCSW, will be the first to tell you that he didn't originally set out to become a social worker. It was the relationship he developed with a mentor in school that inspired him to get into the field, and to stick it out for the long haul.
Both earning an MSW and gaining direct experience through fieldwork exercises provide perfect opportunities to develop relationships that can lead to valuable mentorship. Aurora University's own Alison Arendt found her inspiration to become a social worker through a connection she made while working at an adult mental health facility where she encountered a staff member who had a uniquely client-centered approach to her work.
Arendt couldn't help but notice the sense of inclusivity, compassion, and critical thought this coworker brought to each interaction. "I didn't fully understand why it was different from the others until I had the nerve to ask a little bit more why it is that she responded this way. It came to me through that conversation that the social work education is what really helped her shape her understanding of how she connected with people and why she did the work she did."
Through this connection, Arendt found her motivation to pursue a career in social work.
Channeling Your Inspiration as a Professional Social Worker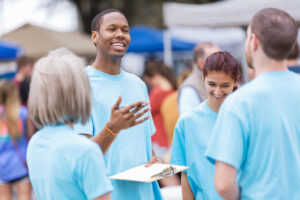 No two paths into the social work profession are alike. While some have a clear sense early on that social services is the right career path to take, some start out in other areas of public service or entirely different fields only to switch gears later on.
In fact, AU's Dr. Barnwell started out as a truancy officer before deciding to become a social worker. "I enjoyed that work a great deal. But I really wasn't understanding what was happening with the individuals that I was working with because it wasn't enough to simply say, 'hey, you should go to school because it's the law and it will ultimately help you be a better citizen.' Years to come, it didn't work, so I knew I had a gap in my understanding."
In trying to identify these gaps, she began to look into, "…what social workers do in the diversity of experiences that they have," as she so eloquently put it.
What she discovered changed the way she viewed work and service.
"I think one of the best fits for me about social work is that it's always moving and changing. It really is inclusive of all the people, all the environments in recognizing that change is inevitable. So, we can work with that change and we can be intentional about how we support people during that process."
Social work is a field that anticipates and adapts to change.
At the individual, family, community, and public policy levels, today's social workers are engaging with people of all backgrounds, and making meaningful connections with those communities, driven by a conviction that everyone deserves access to the support and resources they need to live healthy and fulfilled lives.
The newest generation of dedicated social workers are coming into the field better prepared than ever, graduating with MSW degrees they earned online through flexible programs that made going back to school possible for them while working and raising families. And they're coming out of those programs with more than just a degree. They're also bringing with them the unique experiences that come from diverse field placement opportunities and the backing of strong student-practitioner networks.
It takes a village, as they say, and today that village is built online at schools like Aurora University Online.
When you're ready to advance your social work career, our online MSW lets you customize your learning experience with eight optional specializations: Addictions, Child Welfare, Forensics, Gerontology, Health Care, Leadership Administration, Military & Veteran, and School Social Work. You may also pursue the dual MSW/MBA or MSW/MPA degree program.
The Military and Veteran Social Work track is available exclusively through Aurora University Online (AUO). All other tracks are available both on-campus and through AUO's flexible online programs. The Aurora University MSW program is accredited by the Council on Social Work Education (CSWE).
With editorial contributions from Aurora University College of Education and Social Work faculty:
Dr. Brenda Barnwell, DSW – Dean of the College of Education and Social Work
Alison Arendt, MSW, LCSW – Associate Professor of Social Work, Director of Graduate Studies
Joseph Oleck, LCSW – Lecturer of Social Work
Search the Top Programs in Social Work