Consider a Featured CSWE Accredited Online MSW Program
AD
MSW Programs Currently Accepting Applicants

University of Denver - Online Master of Social Work (MSW)
-
Earn an MSW in 18 months with DU's online advanced standing program.

Fordham University - Online Master of Social Work
-
Advanced standing for qualified students with a BSW. CSWE Accredited.
New York MSW Programs
Schools with MSW Programs
25 MSW programs in New York
Social Work Licensure
Social Work Careers
In New York, there are 25 colleges with Master of Social Work programs. There are 17 MSW programs that are accredited by the Council on Social Work Education with campuses within the state of New York.
New York City, the most populous city in the country, is the hub of NY MSW programs. Its Burroughs and surrounding neighborhoods make up the majority of the rest of where universities reside, but there are also a few programs at colleges located in Upstate New York.
If you are looking for reputable MSW programs in New York, you may be surprised to find that there is a wealth of opportunity around every corner. MSW programs typically last anywhere from 2-3 years and involve coursework that consists of Sociology, Psychology, Law and Ethics, and Policy Development.
AD
MSW Programs Currently Accepting Applicants
In a state that is as elaborate and well-known as New York, social work degree programs are growing in popularity. The high population and dense communities make social work a necessity for most boroughs within this state, encouraging more professionals to lean towards this field for future endeavors.
Consider featured online MSW programs that are currently accepting applicants for their Master of Social Work degree.
Consider a Featured Online Social Work Program
Click the university name for information on admissions, courses, status of accreditation, and more.
| School / Program | Online Program? | Advanced Standing Availability | Course Information |
| --- | --- | --- | --- |
*Sponsored Online Social Work Programs
Online MSW Programs in New York
Online degree programs are quickly becoming the new norm for college students. The convenience of these programs can allow students to continue working and raising their families while indulging in degree programs. In the state of New York, students are given the opportunity to engage in online MSW programs at Columbia University, the University of New York at Buffalo, and Fordham University.
These online programs integrate virtual classrooms into the learning process, making independent learning and virtual teamwork a huge part of the degree acquisition process. If you are not sure that online degree programs are right for you, there are plenty of traditionally formatted programs available throughout the state of New York for you to enroll in.
MSW Social Work Degrees in New York
New York is an excellent place to excel in a career in social work. This state currently offers students the option of pursuing a Master's in Social Work online, which is a great way for upcoming professionals to get involved in a meaningful degree program without the added hassle of traditional on-campus degree programs. Universities such as the College of Staten Island and Adelphi University provide high quality programs that can assist students with transitioning into this important role in society. In all, the state of New York has 3 online and CSWE-accredited degree programs to choose from.
Whether you reside in Rochester, New York City or even the Bronx, there are programs available within your general location. Even though these 3 cities host some of the most preferred programs, students from all over the state can benefit from taking part in these reputable online degree programs. Some colleges offering this degree program may provide students with the option of pursuing standard or advanced-standing programs, which can greatly affect the amount of time it takes to complete this program.
AD
MSW Programs Currently Accepting Applicants
Finding a Specialized MSW Track or Concentration
The generalized online MSW program is not your only option when pursuing your degree online. The state of New York may be on the hunt for professionals that have specialized knowledge of certain sub-fields of social work, such as medical social work, social work education or even psychiatric social work.
Depending on the university you choose, these specializations may be offered as part of the degree acquisition process. Since social workers may be required to obtain licensure prior to working in the field, upcoming students are encouraged to explore specific requirements set forth by the State of New York Office of the Professions prior to enrolling a degree program.
Online MSW Programs in New York
Columbia University: Columbia University currently offers different paths for students with varying needs. The advancing standing track at this university can assist students in completing their degree in 1-year, but requires some extensive experience in the field prior to applying. Generalized online MSW programs can also be chosen, which can be completed in 2-3 years for most students.
The University of Buffalo: The University of Buffalo can provide students with the option of pursuing their MSW completely online. This program contains common aspects of social work, as well as the historical foundations of this incredible field. Advanced standing programs can be completed in 1-2 years for current social work professionals. This program can provide students with a broad and all-inclusive outlook of social work from a professional standpoint.
Fordham University: Fordham University has options for students with and without social work experience. Those that have completed 1-2 years of social work experience can take advantage of an expedited degree program to suit their needs. Advanced standing educational programs typically allow students to complete a significant amount of work experience to complete their degree program in a shorter time period, since they have previous experience applying these concepts in the public domain. This online MSW program may also require students to engage in field work as part of the graduation requirements, so students should be prepared to exercise their skills in a real-world environment.
Licensing Requirements for a LCSW
The state of New York has strict licensing requirements set forth for prospective LCSWs. The state asks that all applicants have a good moral character, which can be confirmed through background checks and personal references. All people applying to becoming licensed as a LCSW must provide proof of graduation from a CSWE-accredited program that includes 12 credit hours of clinical social work at a minimum. After completion of an accredited degree program, graduates must also engage in 3 years of supervised work experience beneath a licensed clinical social worker. Once this requirement has been completed, all LCSW prospects are required to successfully pass a state board examination and take part in state-provided child abuse training.
New York Social Work Colleges
In the capital, New York City, one of the most well-known Ivy League schools offers a competitive MSW program that is available both on-campus and online. Columbia University's MSW program has evolved over the years into a reliable degree program that is suitable for undergraduates from all walks of life. This program recommends that applicants provide proof of their dedication to the field of social work by engaging in internships or volunteer opportunities prior to enrolling.
Another university that offers MSW programs is Fordham University, which has a MSW program that is ranked within the top 10% in quality through collegiate ranking agencies. While New York City is a popular city for upcoming social work professionals, other cities such as Buffalo and Rochester are great places to get started on an education and career.
New York Social Work Career and Salary Information
CSWE Accredited New York MSW Programs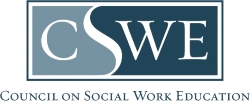 The CSWE (Council on Social Work Education) is the top accrediting board for MSW programs. Below you will find a list of CSWE accredited social work programs in New York.
All Social Work Programs in New York
AD
MSW Programs Currently Accepting Applicants
AD
MSW Programs Currently Accepting Applicants
Search the Top Programs in Social Work