<!- mfunc feat_school ->
Featured Programs:
Sponsored School(s)
<!- /mfunc feat_school ->
One-year MSW programs are designed for social work graduate students who have already completed generalist coursework and internship requirements in the last two years of their BSW. This allows them to begin graduate studies with an advanced standing in the MSW curriculum.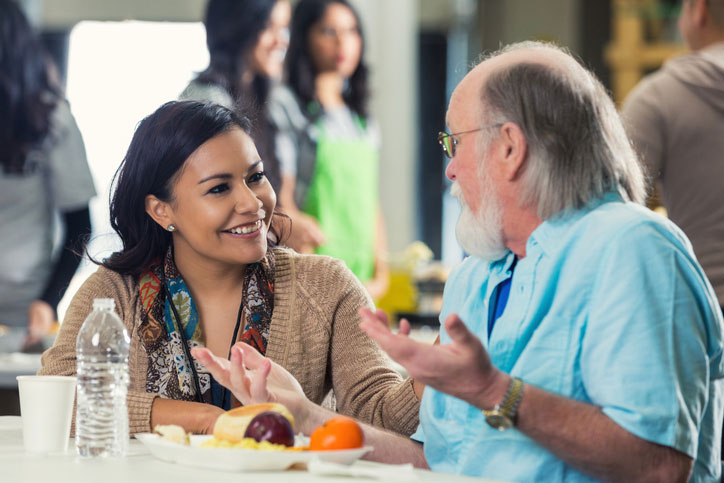 Anyone who holds a CSWE-accredited BSW, is a candidate for a one-year, advanced standing MSW program. This makes the one-year option ideal for LBSWs and other social services professionals in generalist roles interested in making the transition to clinical social work by building on the undergraduate qualifications they already have.
Students in one-year MSW programs dive right into the deep end of the curriculum with the kind of advanced explorations of clinical social work that prepares them for specialized roles. On the other side of an advanced standing MSW program, graduates are ready to work in at-risk and underserved communities to offer counseling and mental health services, perform client assessments and discuss treatment options, and make community resource referrals. In virtually all cases, completing a one-year MSW is a step toward clinical licensure. For some, this might mean going on to work with incarcerated adolescents, for others it's veterans battling opioid addiction and struggling with homelessness.
This kind of specialized knowledge holds significant weight in the field, creating opportunities for more advanced roles in clinical practice, policy-level advocacy, and leadership.
Fundamentally though, the MSW is a clinical degree designed to prepare social workers for one-on-one and group counseling roles. The advanced standing option gives students who have already earned a BSW the chance to build those qualifications faster, offering a streamlined option that recognizes the coursework and internship experience they've already completed.
If you already hold a BSW, the advanced standing, one-year MSW program is the right option for you.
Earning a MSW Online
Today's social work graduate students hold jobs and raise families. And as you might expect from the kind of people drawn to working in social services, even their off-hours can be spent helping out in the community or putting in volunteer work. You won't find too many MSW students who are in a position to enroll in conventional full-time programs that require them to be on-campus every day.
Universities understand the kind of flexibility these students need to be successful. They also understand that in a field like social work, even online students need to feel a sense of connection with classmates and instructors.
Asynchronous courses and on-demand video lectures and modules can be found in some programs, but for MSW programs to be effective, they need to foster a sense of community too. That's why the more common model for an online MSW involves a set schedule where students meet up a few times each week for live-streamed classes, much the same as they would in an in-person program.
This allows students to come together in discussions where they're able to share thoughts and consider new perspectives, making meaningful contributions to the conversations they have with professors and peers.
Online MSW programs offer both the flexibility and connectivity you need to get the most from your graduate studies, with no on-campus requirements to slow you down.
Online One Year MSW Programs
One-year MSW programs are routinely offered online. As an accelerated option that's designed for practicing social workers and other BSW holders, it's exactly the kind of program you'd expect to be offered with working professionals in mind.
The reason advanced-standing MSW programs take just one year to complete is simple: The first year of an MSW covers the same generalist courses you already took in the third and fourth years of your BSW.
With generalist courses already behind you, that means you would start your advanced standing MSW by taking the specialist courses that ordinarily begin in the second year of a master's program.
With an advanced standing program, you're simply skipping the first year to avoid repeating the generalist coursework you already took.
Who is this degree meant for?
One-year online MSW programs are intended for anyone with a Bachelor of Social Work, whether licensed and practicing in the field or not. Although not exclusively designed for social work professionals that already have hands-on experience in the field, Licensed Bachelor Social Workers (LBSWs) are among the primary applicants for these programs.
Most pursue an MSW to meet the requirements for clinical licensure. Earning an LCSW or LICSW usually takes 2-3 years of post-master's supervision in the field before being allowed to work independently. In the end, Licensed Clinical Social Workers (LCSWs) and Licensed Independent Clinical Social Workers (LICSWs) hold the same clinical authority as Licensed Professional Counselors (LPCs), Licensed Marriage and Family Therapists (LMFTs), and licensed psychologists.
What the program might look like, an overview
In the online setting, you can log in and step into the classroom from anywhere in the world with an internet connection. Though some programs involve online discussion threads, archived lectures, and asynchronous courses you can access anytime day or night, you should expect a regular class schedule that will involve meeting up with classmates and professors in a virtual classroom for a few hours each week.
Supervised field work is fundamental to being prepared for advanced licensure for a career in clinical social work. Even in an online degree program, internships are still a requirement.
At the height of the COVID pandemic, it wasn't uncommon to see accommodations made that allowed MSW students to complete internship work remotely. In some cases, these opportunities are still available, but as you would expect in a hands-on field like clinical social work, internships more often involve meeting with clients and mentors in person.
Finding the Right Online MSW
Online 1-Year MSW programs are a great fit for BSW holders that are ready to pursue their graduate degree in preparation for a career in clinical social work.
Boise State University: In terms of reliable degree programs, Boise State University may top the charts. This school currently provides an online MSW program that can be completed in as little as 12 months. In order to be considered for this 100% online MSW program, students must have completed their BSW within the last 5 years and have a minimum undergraduate GPA of 3.0. This degree program can be an excellent method for degree acquisition for current social workers seeking advancement within their field.
The University of Southern California: Social work professionals interested in pursuing a higher level degree can potentially complete the online MSW at USC in as little as 1 year. This program consists of coursework throughout 3 semesters, which contains courses relating to adult mental health, youth and families and social change. In total, students may be expected to complete 37 credit hours throughout the duration of this program in order to graduate.
The University of Tennessee at Knoxville: The University of Tennessee at Knoxville has long been a reliable resource for students interested in becoming effective and knowledgeable social workers. The advanced standing program at this university consists of a 672 field placement requirement which can be completed within the community. The full-time advanced standing program can be completed in 12 months, but part-time options are also available.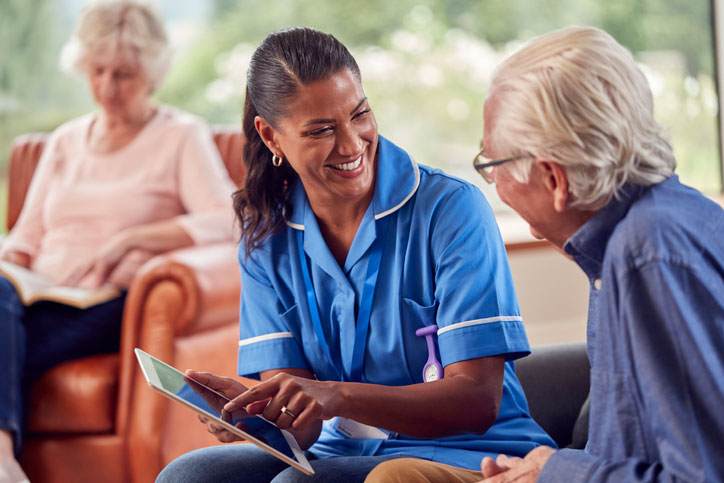 Typical Coursework to Expect
Advanced-standing, one-year MSW programs offer the same rigorous curriculum you'd find in the second year of a standard two-year MSW. That's because the curriculum for all CSWE-accredited MSW programs are built around the requirements described in the Educational Policy and Accreditation Standards for Baccalaureate and Master's Social Work Programs guidelines.
Overall, fewer total credit hours are required in an advanced standing program as compared to a standard two-year program. That's because incoming students with BSW degrees have already completed first-year generalist requirements. In total, that means about half the number of credit hours found in conventional MSW programs, which is exactly what allows advanced standing programs to be completed in about half the time.
Taking specialized courses
Some of the courses that you can take throughout this program may include those that are focused on the needs of individuals. This can include topics that relate to human behavioral and health-related needs. Also, students may be introduced to topics that are relevant to the needs of communities, or certain groups within. Minority considerations and programs are popular topics to be covered in these programs, as well as those that address the special needs of people with disabilities, women and children and even the elderly. If you want to see a more specific picture of the courses that may be offered in these programs, read more in the list below.
| | |
| --- | --- |
| Social Work Practice with Communities | Social work practice that applies to communities can be an important concept for upcoming social work professionals in any domain. Students that choose to enroll in this course can learn about diverse approaches to creating successful social bonds with their communities. Reviewing community agencies or programs for efficiency may be a topic of interest in this course, as well as identifying community needs for future program. Students may be challenged to analyze their own communities for change as part of this course's requirements. |
| Managing Human Services Organizations | Putting together courses from the BSW and MSW levels can lead to a highly-diversified understanding of social work and the human services field. This course can add to a student's basic knowledge of human service organization by providing management and leadership skills that can assist in improving them. Conflict management, policy review and employee training and development may be some topics that are discussed in this field, which can be helpful when being a leader within human service organizations. |
| Policy Practice and Advocacy | As part of your duties as a social work professional, you may be expected to constantly scrutinize social policies for improvement. In this course, you can learn about the different approaches available for analyzing current social welfare policies and advocating for needed change. You can learn about the political processes that may be involved with creating and changing these policies, which can be helpful as a social work professional seeking positive change in your field. |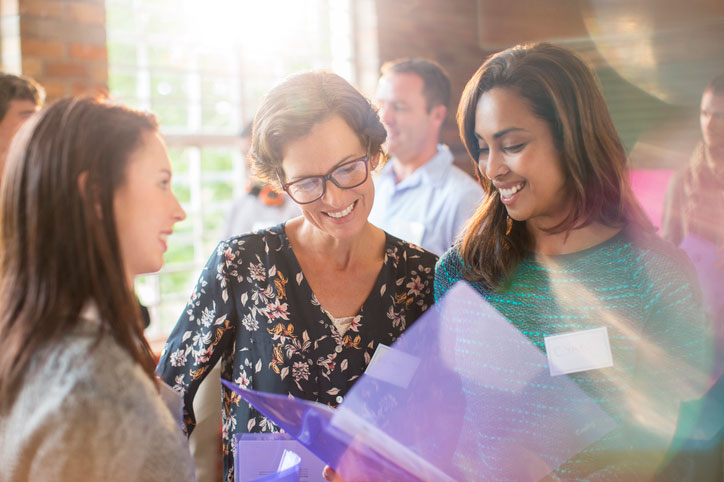 Finding the right approach: micro, mezzo, and macro social
work
Some are called to the social work profession to contribute firsthand to change in the lives of individuals, whether through counseling or other supportive services that can allow you to see the difference you're making directly in another person's life. Others are drawn to the work one can do for communities as a whole, perhaps having seen positive change in their own communities due to the presence of social work organizations. Still others might be interested in putting their social justice work toward broad-scale change, working at the level of policy to ease the burdens of many.
These three examples represent the three scopes of social work: micro, mezzo, and macro, respectively. When considering one's MSW focus area, it's typical to consider the causes one would like to address. However, it's equally important to think about how you would like to interact with that cause – whether as a counselor, an organizer, or an advocate.
Many social workers work their way through these different approaches to their profession, gaining expertise in the micro- and macro- levels before bringing what they've learned firsthand into advocacy work. However, if you know at the outset of your master's program that there is a particular approach that appeals to you, many schools offer courses and even sometimes concentrations in one particular approach to social work. If one of these tracks feels like your particular calling, keep this in mind as you consider your one year MSW options.
Understanding the Field of Social Work
Understanding the field of social work must start with an understanding of what communities need in order to be healthy, safe, and supportive places. That also means understanding the scope of the issues that might be preventing people and communities from thriving. It's no mystery what those barriers are. We all see it every day in our own communities – poverty and a lack of access to the education and opportunities to escape it, the growing homelessness crises, the ravages of addiction, a lack of access to healthcare and basic nutrition.
<!- mfunc feat_school ->
Featured Programs:
Sponsored School(s)
<!- /mfunc feat_school ->
Social work is an incredibly diverse field that calls upon dedicated professionals that are ready and willing to tackle some of society's most complicated issues. For every major problem that affects American communities, you'll find non-profits and state or municipal agencies staffed with clinical social workers dedicated to offering the immediate help people need, as well as community and policy-level advocates working to provide longer term solutions.
This individual (micro), community and group level (mezzo), and big-picture (macro) approach to serving people and solving issues represents the basic categorization of social services. It provides a simple way of understanding how social work at all levels comes together to serve individuals and communities, while also pushing for high-level policy change.
Many people work within social and human services
Of the more-than 708,000 social workers in the United States, nearly 350,000 work in child, family, and school services, according to US Bureau of Labor Statistics data for 2021. Serving the needs of families in at-risk communities with direct intervention and service referrals to address everything from family nutrition to counseling in the wake of traumatic events, child and family social workers provide a lifeline to families affected by poverty or torn apart by substance abuse or the incarceration of a parent.
But child, family, and school social workers are not alone. Another 180,000 social workers are employed in hospitals and other healthcare settings, while nearly 120,000 serve in mental health and substance abuse counseling roles.
There are other areas
Many social workers try to find careers that are in line with their interests, as well as the people that they are most passionate about working with. If you already have a good idea of the type of people you would like to work with, this may be an easy step for you. Our team challenges you to consider which group within society you would most like to influence, so that you know which field could be the most relevant to you. Making this choice prior to choosing a degree program will help ensure you choose the right internships and get the most from your journey.
Specialized settings are common for social workers
There are many different specialized areas of practice social workers can choose to pursue, from client facing positions at ground level to the advocacy work taking place at the legislative level.
In major hospitals, social workers are there to provide guidance and a compassionate voice while assisting people who may not understand treatment plans or how they'll be able to pay for the medical services they need. In school systems, they are there to work with students in at-risk communities to provide educational support and guidance through difficult life circumstances. In mental health facilities, they help patients understand their options and their rights under the law. In prisons, they work to counsel offenders and direct them to employment opportunities and resources that help reduce recidivism.
But this still represents just the tip of the iceberg in a field where practice settings and specialties are as diverse as the people social workers are dedicated to helping.
At the individual and community level, social workers may be the first resource for people struggling to stay afloat in daily life… while those working to advocate for people and communities at the policy level may be the ones responsible for putting front-line resources in place.
Social Work Careers
Once you have completed your degree program, your required internships, and the two-to-three years of post-master's supervision you need to be able to practice independently, you can take a deep breath and enjoy the satisfaction of knowing you have cleared all major milestones on the way to your goal of becoming an independent social worker.
At this point, you may already have a good idea of what you would like to do with your new degree. But for some graduates, there may be entirely new opportunities that present themselves while working in the community and gaining experience under the guidance and supervision of a mentor.
There are virtually no limits to where your MSW can take you in terms of specialties and practice settings:
Child Welfare
Education
Geriatrics
Developmental Disabilities
Healthcare
Criminal Justice and Corrections
Mental Health and Substance Abuse
Occupational and Employee Assistance
Research
Public Welfare
Policy and Planning
Politics
International Outreach
If you're compelled in your heart to help and you have the patience it takes to be there for people in their hour of need, social work could be a great career for you to settle in to.
What to know about licensure
Master's-level social workers (LCSW or LICSW or LMSW) provide clinical services working in counseling roles or more broadly as community advocates and agents of legislative change. They also serve as amazing leaders in some of the common social and welfare fields available today. Having experience and more advanced knowledge of clinical practice provides a great foundation for supporting other social workers out in the community.
As leaders, change-makers, front-line clinicians and more, they draw on the clinical expertise they have developed in the course of earning master's-level licensure.
Social worker salary range and job outlook
Social workers who have completed one year MSW programs are qualified for all social work roles short of direct clinical counseling (which requires an LCSW). Compensation for these positions varies depending on your focus area as well as where you work. According to the Bureau of Labor Statistics, mental health social workers earn a mean annual wage of $49,130. The top 90th percentile of these workers earn $97,300 or more. Those working in these roles in California earn higher on average, with a mean annual wage of $79,450. Meanwhile, the BLS reports that child, family, and school social workers earn a median annual wage of $54,880 per year, with those in the top 90th percentile earning $78,710 or more. In New Jersey, the highest-paying state for such specialists, the mean annual salary is $75,410.
Job growth estimates for social workers are strong, as they meet critical needs that will always require frontline workers. According to the BLS, the projected job growth rate for social workers is 9% by 2031. Community and social service specialists can expect even greater rates of growth, showing a projected job growth of 12%. These numbers indicate that social workers will be likely to find steady employment over the course of their careers.
Wrapping up
One-year MSW programs are an ideal way for BSW-prepared professionals to move into higher level positions in clinical social work. Students coming into these programs can expect to explore social justice reform and how the same systems and policies that perpetuate marginalization can be used to promote equity. As a social worker, there is always more to learn. Lucky for all of us, social workers are the type of people that are always looking for new solutions to age old problems, proactively seeking out new and better ways to care for the individuals and communities they serve. If you already hold a BSW, there's no better way to do that than with a one-year MSW.
Our editorial team put together a short list of common careers available to MSW-prepared social work professionals. Explore your options to get a sense of the kind of career you could pursue with your MSW.
Gerontological Social Worker
Psychiatric Social Worker
Public Health Social Worker
Social Worker in Adoption/Foster Care Services
FAQs
Is a one year MSW program a less thorough education than a two year program?
No. Advanced standing MSW programs are specifically designed for BSW graduates who have already completed part of the coursework for a master's program. This means that those in a one year MSW program will graduate with the same expertise as those who have completed a two-year program.
I have a bachelor's degree in another subject. Is it still possible to pursue a one-year MSW?
Unfortunately, no. Advanced standing MSW programs are only available to students who have already completed the exact coursework needed, which can only be guaranteed by a CSWE-approved BSW program.
Will I be able to work as a clinician after a one-year MSW program?
No – at least not as an independent clinician. This is also true for graduates of a two-year MSW program. There are additional steps in order to become a licensed clinician – also known as an LCSW – which you can read more about here.
Search the Top Programs in Social Work