<!- mfunc feat_school ->
Featured Programs:
Sponsored School(s)
<!- /mfunc feat_school ->
When you picture the day-to-day work of a social worker, chances are you are imagining a clinical social worker, a highly trained professional who helps individuals address serious emotional, behavioral, and social needs through therapy and other instrumental treatment methods.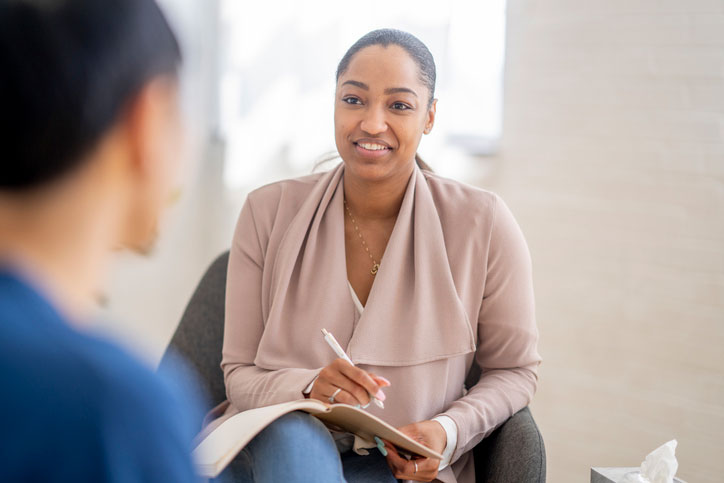 In fact, not every social worker's responsibilities look like this, and there are numerous other ways that social workers can make a meaningful impact on individuals and families as well as society at large. However, if the job description above is the work that calls to you, you're a perfect candidate to become a clinical social worker.
What is Clinical Social Work?
A clinical social worker is a specialist who is able to provide direct counseling and treatment to clients facing emotional, behavioral, or mental health crises.
In order to practice as a clinical social worker, you must become a Licensed Clinical Social Worker (LCSW). Without this you are not allowed to provide treatments including psychotherapy and other forms of intervention.
Working in a clinical setting, LCSWs provide much-needed psychological support to clients that seek their help, using talk therapy and other methods to address behavioral problems, unpack the cause of emotional distress, and identify underlying mental health issues. They consider all factors that can affect mental and emotional well-being and social development, with attention to cultural contexts. With the right education and experience, clinical social workers can determine the most effective treatment path for each client.
Social work is a broad field that can include any aspect of a community's social environment. As a licensed clinical social worker, you could become part of the preventative force that seeks out solutions relating to the environment and the individual.
The primary focus of clinical social work is the psycho-social and behavioral components that affect an individual's capacity to lead normal lives. As a clinical social worker, you could be an important piece of the life-improvement process for people in need.
Accredited Master's in Clinical Social Work Degree Programs
Along your path to educational and professional success, there are many guidelines in which you must follow to have the proper end result. As with most clinical positions, it is required the licensed clinical social workers obtain the proper licensure. You can test for licensure after completing your MSW degree program. States require licensure before working with individuals in the public.
When selecting your MSW program, it's critical to find a school that is properly accredited by the Council on Social Work Education (CSWE).
This will ensure that you can obtain the licensing you want and that you qualify for top jobs as a social work clinician once you enter the field.
The Council on Social Work Education (CSWE) is the leading accreditation agency for educational programs in social work. As you are doing your research for different programs and licensure, you may see this organization pop-up several times. The CSWE's name on an educational program in social work can help you ensure that you are getting your money's worth through your chosen program.
These programs can be found as Online Master of Social Work degrees, and in traditional environments and provide reliable curricula that have been reviewed by the proper accreditation agencies.
What Does It Mean To Be a Clinical Social Worker?
Clinical social workers specialize in a wide variety of issues, supporting a wide variety of populations.
Working in this field, you may provide treatment to individuals, groups, couples, or even families. Depending on whether or not you seek a specialty in treating different groups, you might even have a highly diverse set of clients to work with.
Professionals within Clinical Social Work can find employment in many organizations. The most commare are state organizations that provide services to children, families, and the elderly. Other options include health care services, mental health, rehabilitation centers, private practice, and even the school system.
What Can You Do With a Masters Degree in Clinical Social Work?
Some students enter their MSW programs with a strong sense of what specific type of clinical practice they would like to take up in their social work career, while others discover the path most suited to them through the field work opportunities provided by their universities.
<!- mfunc feat_school ->
Featured Programs:
Sponsored School(s)
<!- /mfunc feat_school ->
Whatever your situation is, if you would like to provide guidance in a clinical setting, the social work field is likely to offer a role that suits your interests and abilities.
The career paths listed below are the four largest branches of clinical social work. As you will see, some of the responsibilities of these roles overlap, but each is dedicated to a particular set of needs and concerns, drawing upon specific skill sets. As you read these descriptions, consider your own areas of strength and which environments are the most suited to your abilities.
Social Services Career
At the state level, there are numerous agencies that have a common objective of providing protection and assistance to vulnerable populations. Two of the most well-known departments at the state level are the Department of Children Services (DCS) and Adult Protection Services (APS). Working for children's services can mean intervening in the event that a child is victim of neglect, abuse, or abandonment. As a social worker in social services, you can expect to have a close relationship with the children in which you serve, providing advocacy for them in a court setting, referring them to appropriate foster homes, and assisting them with receiving the medical/dental/mental health services that they deserve.
Adult protection services can provide a similar service to adults of older-age that are victims of abuse, neglect, or abandonment from their caregivers. Social workers in this field can assist in finding appropriate living quarters, nursing facilities, and healthcare-related services to individuals that require at-home care or home-health nursing.
Mental Health Career
People that have been diagnosed with mental health disorders may require the help of social workers for their treatment planning, follow-up care, and therapeutic services. Social workers that work in the field of mental health may help their clients determine the most effective means of treatment, find resources in the community that can assist them with living normal lives, and refer their clients to therapeutic agencies for treatment.
For people that do not have the ability to make their own financial and treatment decisions due to their mental state, social workers can be an advocate for proper treatment at a legal level. Social workers can sometimes take over responsibility for people with varying mental health conditions, allowing them to make decisions in regards to their client's mental health and well-being.
Healthcare Social Work
In the healthcare field, there are plenty of confusing terms and conditions that patients are not suited to comprehend. Healthcare social work professionals are employed within the medical field, sometimes in hospitals, to provide counseling to patients that have been diagnosed with complex or serious illness and disease. These professionals can help patients come to terms with the constituents of their condition, provide advice during the treatment planning process, help patients when dealing with insurance companies, and provide referrals to organizations within the community that can assist patients with leading normal lives.
Social workers within this field can be a huge help to people that are suffering from complicated and sometimes chronic health conditions. If you have an interest in this field, you could be a huge part of the recovery process for patients with diverse illnesses within your area.
Educational Social Work
In schools across the country, school-aged children are dealing with social issues such as bullying, cybercrimes, and educational pressure from their families. Combining all of these different issues can make it very difficult for a child to focus on their school work and excel to their full potential.
Social workers that are employed within the educational field can provide interviews and counseling to students from the beginning of school age until graduation. Some colleges and universities may also employ social workers to help students deal with the stresses of transitioning into adulthood and the pressures associated with it.
Social workers may provide mental health counseling to students that are working through personal circumstances, college counseling to high school students that are looking to pursue a college degree, and even intervention services for students that are succumbing to peer pressure in terms of drugs or alcohol. This is a very rewarding field that is popular for graduates of social work degree programs.
Clinical Social Worker Salary Range and Job Growth
As the list above makes clear, there are numerous fields that employ clinical social workers. Different sectors offer different salary ranges for clinical social workers. The Bureau of Labor Statistics reports that healthcare social workers earn a mean annual wage of $62,310. Those in the top 90th percentile earn $86,820 or more. Meanwhile, the BLS reports that those in the mental health and substance abuse sector earn a median annual wage of $49,130 per year, with the top 90th percentile of the sector earning $97,300 or more. Though the BLS does not measure LCSW MSWs specifically, the ability to do advanced clinical work is likely to bring you into the higher end of these salary ranges.
The job growth expectancy for social workers is strong across specialties, as their services will always be greatly needed. Indeed, the Bureau of Labor Statistics reports an overall projected job growth rate of 9% by 2031, exceeding the average for other professions. For counselors, social workers, and other community and social service specialists – a group that includes clinical social workers – the estimate is even higher, at 12%.
LCSW Programs
There are many MSW programs. Consider viewing the Online MSW programs page or search Master of Social Work Programs by state for full lists.
In this day and age, many schools offer partially or fully-remote options, as well as the choice between a full-time and part-time schedule.
Below are just a few of the top NSWE-approved online MSW programs in the country. To learn about even more program options, visit the Online MSW programs page or search Master of Social Work Programs by state for full lists.
Boise State University – Online MSW
Boise State University currently offers 2 options to students that are interested in pursuing the LCSW distinction. The first track is for generalist MSW students and consists of a 61 credit hour requirement. For students that have already obtained a BSW, this university also offers an advanced standing track that only requires 37 credit hours for graduation. Both of these programs can be completed completely online through this popular university.
Florida State University – Online MSW
Florida State University is another well-known university that allows students to take part in a completely online, CSWE-accredited degree program in social work. There are also 2 programs available for students at this school, one of which is for bachelor's earners from other disciplines and another for BSW graduates. The generalist degree program requires students to complete 61 credit hours and the advanced track requires that students complete 39 credit hours.
The University of Houston – Online MSW
Like other schools offering the online MSW, the University of Houston has an advanced track and standard track for their MSW programs. The advanced track at this university is designed for learners that have indulged in BSW programs prior to entering. It requires 38 credit hours to complete, and can be finished in as little as 1 year. The standard track can be approached by students from any previous bachelor's program and requires 54 credit hours for graduation. This program can take around 2 years to complete at full-time enrollment.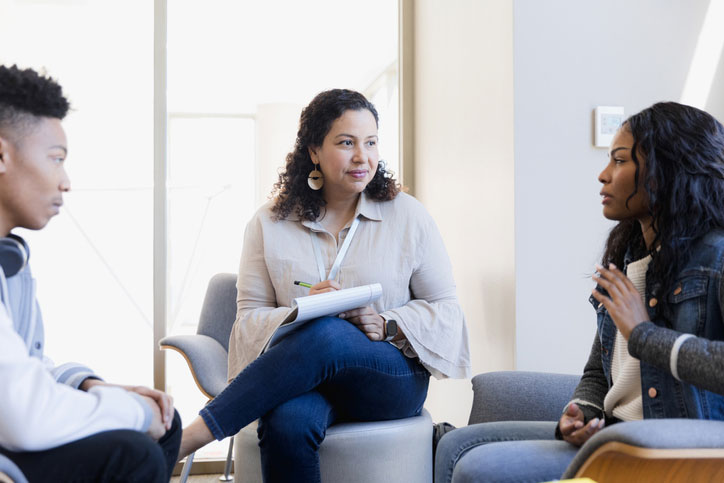 Sample Clinical Social Work Coursework with Descriptions
Once students elect to pursue the clinical social work track within their MSW program, they are likely to share some core coursework materials before branching off into their specific subfield. Below are a few examples of the classes nearly every clinical social worker will take while in their master's program.
Advanced Issues in Human Diversity
As social work professionals, it is vital that upcoming students understand the importance of considering diversity when working in the field. This course provides students with the knowledge and experience required to work proactively in the field without categorizing, making assumptions, or stereotyping the people they provide services for. Students that take this course can gain a better understanding of how important it is to remain neutral when providing services to all people, regardless of their background.
Evaluation and Treatment of Mental Disorders
Since most social work graduates will work in fields that are related to individual mental health, this course was designed to help students gain a better understanding of biopsychosocial assessments, diagnostic tests, and treatment planning for people that suffer from complex mental disorders. Students within this course are taught to work from an unbiased perspective in order to provide the best care for their patients.
Social Dimensions of Human Behavior
This course seeks to help students understand how society can play a role in human behavior. Socioeconomics and culture can be a huge determinant of behavior from a sociological standpoint. The effects of racism, ethnic bias, gender discrimination, and class stigmatization may also be discussed throughout this course.
Social Welfare Policy
In order to provide the public with the best quality of service, social work students must understand the United States' social welfare policy from a practitioner's standpoint. This course helps students learn to identify policy problems and promote change through the legislative system. Law and regulations surrounding social welfare application may also be discussed in detail.
Social Work Practice
This course outlines the skills and requirements of social work professionals in the field. Communication techniques, interview strategies, assessments, and supervision are taught within this course, which helps to connect social work students with their responsibilities in the field.
Social Work Licensure
In addition to this board examination, most states require that students also successfully pass a state jurisprudence (law) test that pertains to the laws and regulations within that particular state. The law examinations are given to all clinical professionals that are seeking licensure through the state, and are not specific to one group.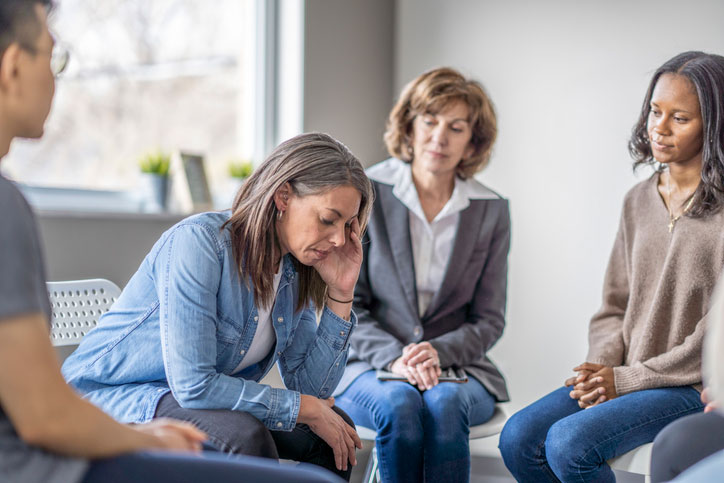 How Do You Become a Licensed Clinical Social Worker?
There are multiple steps you can take to become a LCSW (Licensed Clinical Social Worker). As mentioned above, a Master's in Social Work, more often than not from a CSWE-accredited social work program, is the first step.
If you hold a bachelor's degree in any subject, you're qualified to pursue a social work master's. To learn more about the variety of MSW program offerings available to you, take a look at our guides below.
Clinical Social Work Programs FAQs
Can LCSWs practice independently?
Yes – this is one of the greatest benefits of getting your clinical licensure. One can only start an independent practice as a clinician if they are a certified LCSW.
Can I pursue my LCSW directly out of my MSW program?
Yes, and this is an option many students choose to pursue, though it is not required. Since getting one's LCSW requires an MSW, and since the next requirement is a sizable amount of supervised clinical work experience, many students decide to approach the process in one fell swoop so that they can become a practicing clinician as soon as possible.
Do LCSWs make more money than those who simply hold an MSW?
While there are no verified statistics measuring the salary data for LCSWs, it is safe for licensed clinical social workers to expect that they will receive higher compensation. This is because they are eligible for some top-ranking positions that are not available to those who only hold MSWs.
Search the Top Programs in Social Work