Consider a Featured CSWE Accredited Online MSW Program
AD
MSW Programs Currently Accepting Applicants

University of Denver - Online Master of Social Work (MSW)
-
Earn an MSW in 18 months with DU's online advanced standing program.

Fordham University - Online Master of Social Work
-
Advanced standing for qualified students with a BSW. CSWE Accredited.
Virginia MSW Programs
Schools with MSW Programs
4 MSW programs in Virginia
Social Work Licensure
Social Work Careers
As a resident of the state of Virginia, you may be interested in learning more about the educational opportunities available to you as an upcoming social workers.
Our team of educational experts has reviewed accredited online MSW programs in this state and has determined that there are currently 4 CSWE accredited MSW programs in Virginia open to learners.
Through an MSW program, students can gain the skills necessary for becoming helpful professionals in the social domain, health care and even education. Online MSW programs can provide the same reliability and usefulness as traditional programs found throughout the state Virginia (although they may have their campus location in another place).
Popular cities for online and accredited MSW programs in Virginia are Richmond and Radford. Within these amazing cities, students can engage in high-quality educational programs that can set them on track for achieving success in the field of social work.
Through universities such as Radford University and Virginia Commonwealth University, students can take part in courses that instruct students on how to work with families from low income area, those that have experienced financial hardship or even work with individuals on various social needs. These universities may also provide a high focus on social policy as it relates to the position, so that students can gain more insight into how social programs are created and funded.
Consider featured online MSW programs that are currently accepting applicants for their Master of Social Work degree.
Consider a Featured Online Social Work Program
Click the university name for information on admissions, courses, status of accreditation, and more.
| School / Program | Online Program? | Advanced Standing Availability | Course Information |
| --- | --- | --- | --- |
*Sponsored Online Social Work Programs
Keep this in mind for social work licensure
Each state may have its own licensing agency for professionals interested in becoming licensed in their field. Through these agencies, students may be required to apply for and meet the recommendations of their state, which can result in obtaining a license to work with the public on social issues.
In the state of Virginia, students should review the requirements set forth by the Virginia Board of Social Work prior to enrolling in any program that offers social work degrees. This can help students ensure that they are choosing the right type of degree program for the career they desire.
Virginia Social Work Licensure Requirements
Graduate with a MSW degree from a CSWE accredited MSW program
Apply for Supervision Approval (note that in Virginia, your supervisor must have an active LCSW in Virginia AND a minimum of 2 years of post-licensure clinical social work experience)
Gain post-MSW degree supervised experience in a clinical social work delivery setting
Apply for LCSW Licensure by Examination
Pass the ASWB Clinical level examination
AD
MSW Programs Currently Accepting Applicants
Online MSW Programs in Virginia
There are multiple options for universities that have a campus location and an online MSW program in Virginia.
Radford University
Radford University currently provides 1 of the 2 online and accredited MSW programs in the state of Virginia. This program is offered to current students in a part-time format, which can be completed in around 2-3 years. Some students may be required to attend class on campus some Saturdays, which can allow students to become more familiar with social concepts needed to excel in the field. This online MSW program may allow students to specialize in Community-based Family Practice, which is a great choice for students interested in improving small or large communities.
Virginia Commonwealth University
If you are interested in achieving a Clinical Social Work degree through an online setting, Virginia Commonwealth University may have exactly what you are looking for. This university offers students the option of pursuing their degree at a part-time rate, which is a great choice for students that are currently working full-time in the field of social work. The hybrid model of this degree program may also require that students attend meetings on campus 2 times each semester.
CSWE Accredited Virginia MSW Programs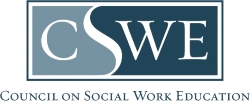 The CSWE (Council on Social Work Education) is the top accrediting board for MSW programs. Below you will find a list of CSWE accredited social work programs in Virginia.
All Social Work Programs in Virginia
AD
MSW Programs Currently Accepting Applicants
AD
MSW Programs Currently Accepting Applicants
Search the Top Programs in Social Work