There are currently 84 accredited online MSW programs listed for you to consider on the CSWE website. Each of these programs can provide you with a unique perspective on social work as a professional discipline, while still offering you the same high quality education as other accredited programs. We have reviewed every single CSWE accredited online MSW program:
To verify its current standing with the Council on Social Work Education
To evaluate whether or not it has an Advanced Standing MSW program for current BSW degree holders
To review the online program delivery options, including if they have part-time MSW degree options
To determine if there are any on-campus visits required prior to graduation in the MSW program
Our guide is meant to provide you with a one-page resource to determine if an Online CSWE accredited MSW program is right for you. Throughout the page you will be able to read through our resource as a starting point, and click to get to the university's website. We recommend you check out a number of different online MSW programs to see what is best for you. Read on to continue learning.
Why Consider an Online MSW Degree?
If you are like many others considering this degree, you may also be interested in taking advantage of accredited and online MSW programs. These programs currently hold a high level of quality and convenience, due to the flexible format and regular review processes.
Online MSW programs can be a great way to continue working at your current job or living your life uninterrupted - all while pursuing the career of your dreams. Our team of educational experts recommends that you review this page, and to contact the specific social work program you have questions about to verify the CSWE accreditation.
What is the CSWE and Why Is It Important?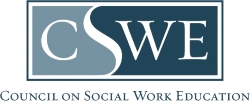 The Council on Social Work Education (CSWE) is a leading accreditation agency for social work degree programs at the bachelor's and master's level. This organization is currently responsible for analyzing degree program for quality, utility, and relevance in the field of social work.
Our data is based on the CSWE website, but you can view the Council on Social Work Education website to review currently accredited MSW programs that are available in the online setting.
Online MSW Programs Accredited by the CSWE
One unique aspect of accredited online MSW programs is that programs are available with a wide range of specializations. Concentration options like Advanced Generalist, Individuals and Families, Clinical Social Work Practice, Children and Families, and Mental Health are just a few of the many options that you can pursue under the available accredited programs.
Review of Online CSWE Accredited Programs
There are over 800 programs at the bachelor's and master's level that have currently met the CSWE's standards for social work degree programs, making this agency a huge provider of reliable accredited degree programs.
As you move forward into graduate-level degree programs in social work, you might find that there is an abundance of available degree programs both in traditional format and online. It can be difficult to distinguish between high quality programs and those that may be marketed by for-profit universities.
Since social work graduates may also be required to obtain a professional license in their field, the quality and accreditation of their degree program can be a huge component in whether or not they are able to achieve this after graduation.
Agencies like the CSWE can provide students with concentrated information about reliable degree programs, so that they do not choose a program that cannot help them meet their goals. The increase in online degree programs throughout the United States has warranted a need for quality-driven agencies like the CSWE to ensure that students are provided with as much information as possible about the usability of their degree.
Commonalities of CSWE Accredited MSW Programs
As you browse through the requirements of each CSWE-accredited online MSW program, you might find that there are similarities between each program. This is likely due to the accreditation standards and what each program must provide to learners during their learning experience.
Part Time, Full Time, Advanced Standing MSW
A lot of the MSW programs currently available online offer students the option to complete their degree program at a part-time, full-time, or advanced standing rate. Each program reviewed through the CSWE can provide you with more information on the enrollment statuses available at each school, with most offering multiple options for you to choose from.
Campus Visits
Since the online MSW can lead to licensure, some schools that have received accreditation may require that students engage in some variation of campus visits throughout their program. Some of the programs with this requirement may state that students attend campus 1 time per semester, on select weekends, or during the last semester of their program.
Zero Campus Visits
There are multiple programs currently available that require no campus visits, which would be ideal for students that already have a supervision placement in mind within their local area. Each of these options may be common within the accredited online MSW programs listed on the CSWE website.
Availability
The largest commonality between these online and accredited programs is their openness and availability. When browsing currently available programs, you might notice that the majority state that they are open to students all over the U.S.
This can provide you with a huge variety of options to pursue outside of what is offered in your home state. Choosing from programs at different universities all over the country can ensure that you choose the most fitting degree program from those provided.
FAQs About CSWE Accreditation for MSW Programs
How is a program reviewed?: In order for a degree program to be considered for accreditation, the institution must first prepare a self-report of their program for representatives of the CSWE to review. Following this process, the CSWE will conduct site visits to review the program, instructors, and curriculum of the pending degree program. If the university meets all of the standards of the application, self-report, and site visit protocol, it can be considered for accreditation for a period of time.
How long does accreditation last?: Universities that have received accreditation from the CSWE may qualify for different accreditation terms depending on their needs. Some college programs currently hold accreditation that is reviewed yearly, while others may not be reviewed more often than once every 6 years. The renewal accreditation process ensures that these degree programs maintain a high level of quality over the years, which can be beneficial for incoming students seeking licenses in their future.
Is CSWE accreditation required for licensure?: Students seeking careers as licensed social workers may be required to engage in accredited degree programs to be considered for licensure in their state. Most states in the U.S. currently require CSWE-accredited degree programs to be completed in order to be a candidate for licensure. Since the CSWE is the largest accrediting agency for MSW programs, this could be the agency of choice during your initial search.
Review of All CSWE Accredited MSW Programs