Consider Featured Online Social Work Programs
AD
Programs Currently Accepting Applicants
Students preparing to begin their educational journey into the field of social work can start with online accredited BSW programs in the state of California. Accredited programs can provide learners with an optimum learning experience that includes pre-approved topics of study, experience opportunities, and a curriculum that can lead to professional licensure for some.
Whether you decide to pursue your degree through traditional or online means, California has degree options suitable for your needs. In today's society, more and more students are pursuing the convenience of online degrees as a means for developing a balanced schedule for personal or vocational needs.
As you continue to learn more about the state of California's opportunities for online social work programs, you are encouraged to explore CSWE accreditation and how it sets accredited programs apart from those without it. Reliable degree programs in the online environment can provide you with benefits not found in standard educational programs.
Most Popular California Campus Based Accredited BSW Program
New learners entering into online and accredited BSW programs in California most often choose California State University at Chico for their degree. CSU's 3-year, year-round program can be a great option for learners prepared for an intensive learning experience.
This degree program includes an online curriculum completed in the virtual environment and 2 weekend intensives per semester on campus. All practicum requirements can be completed within the state of California in 1 of 18 designated counties.
Consider a Featured Online Social Work Program
BSW Degrees and Coursework
Alternative online BSW degree options for California residents include Brandman University and Humboldt State University. Each of these online and accredited BSW options could provide you with a learning experience that caters to your need for flexibility and reliability throughout the process.
Courses in Cultural Diversity and Social Work Basics
The courses that you take during a BSW program can include concepts related to the social welfare system and its emergence, as well as individual studies into cultural diversity and social work practice. The goal of the BSW program is to provide learners with knowledge of social work policy and practice for hands-on work in the field.
Internships Can Give Practical Experience
Most BSW programs may also require that students participate in a practicum or internship experience during their degree experiences. Others, like Brandman University, provide completely online programs with no campus visits required throughout the program.
Incoming students are encouraged to choose programs that are best aligned with their learning styles for the best possible learning experience. If you are the type of person that gains more through in-person contact, Humboldt's program that includes on-campus intensives could be a better choice for you.
AD
Programs Currently Accepting Applicants
Earn your CSWE accredited online Master of Social Work (MSW) from a university that's pioneered social work education for every generation in need of it: Our Lady of the Lake University. 100% online, No GRE or GMAT is required for admission, and whether you have a bachelor's in social work or have a calling to work in this important field, but graduated with a bachelor's degree in another subject, OLLU's online Master of Social Work has a track for you.
Admissions information.
AD
Programs Currently Accepting Applicants
The online Bachelor of Social Work (BSW) adult degree completion program at Aurora University is built on a strong liberal arts base that prepares students for beginning social work practice with communities, groups, families and individuals in a variety of settings with diverse populations and problems.
CSWE-accredited social work program.
Click for admissions information.
BSW Careers and Salaries
For new learners pursuing an online and accredited BSW programs, the career outlook can be incredibly diverse and include several different professional fields. Many social workers completing their BSW and pursuing entry-level positions in the field can obtain careers for social service agencies as case management professionals.
Social workers at the bachelor's level can also provide case management services within the health care field, which can include organizing medical services for clients, working with families during difficult decision-making processes, and educating clients on their options and resources while under a physician's care.
Working in the School System
Alternative career options could include providing one-on-one services to children in the school system or even partnering with mental health agencies for service coordination for clients. Skills in the field of social work can allow graduates to exercise their expertise in fields working directly with the public.
Salaries for BSWs in California
The earnings for social work professionals in the state of California can vary depending on your overall level of education and experience. Social workers currently providing services at the bachelor's level have an average salary of $72,200 in California.
List of BSW Programs in California
Online BSW Programs to Consider
CSWE Accredited California BSW Programs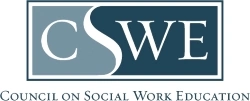 The CSWE (Council on Social Work Education) is the top accrediting board for BSW programs. Below you will find a list of CSWE accredited Bachelor of Social Work programs in California. If you already have a BSW or Bachelor's in another area, you may qualify for a MSW program. View the California MSW programs page.
All Bachelor of Social Work Programs in California
---