Consider Featured Online Social Work Programs
AD
Programs Currently Accepting Applicants
BSW programs may also be the minimum degree requirement for many entry-level careers in the social work field. Some students may prefer traditional degree programs that include face-to-face learning and in-class lectures, while other students may require flexible online programs that fit the needs of a busy schedule.
In the last decade, the popularity of online degree programs has grown tremendously. Online BSW programs can provide students with an equal level of quality all while allowing them to pursue the degree of their dreams from their very own home.
What To Look For In A BSW Degree
When choosing an educational program to enroll in, you are encouraged to choose from programs that meet your scheduling standards. There are multiple programs throughout the U.S. that offer flexible scheduling, part-time or full-time enrollment, and multiple start dates per year.
If you are an upcoming BSW student that is considering programs within the state of Illinois, read more in this guide below. Our team seeks to provide you with more information about these specific degree programs and the types of careers that they can lead you to in the field.
Consider a Featured Online Social Work Program
Popular Accredited Illinois BSW Program
Students within the state of Illinois may choose from a wide variety of BSW programs along their path. One of the most popular degree programs for students enrolling in BSW programs in Illinois is Illinois State University's innovative BSW.
Illinois State University BSW Degree
Illinois State University's program consists of a 54 credit-hour requirement that is spread over the course of 4 years. During this time frame, students can study the introductory aspects of social work, techniques related to assessment and planning in the field, and details about specific treatment groups that they may come in contact with while working in this field.
In addition to course work, many programs offering the BSW may also require that students participate in internships or other supervised field experience while enrolled. This experience can allow learners to experience aspects of their curriculum that they may never have come in contact with and provide them with hands-on experience for use later in their careers.
AD
Programs Currently Accepting Applicants
Earn your CSWE accredited online Master of Social Work (MSW) from a university that's pioneered social work education for every generation in need of it: Our Lady of the Lake University. 100% online, No GRE or GMAT is required for admission, and whether you have a bachelor's in social work or have a calling to work in this important field, but graduated with a bachelor's degree in another subject, OLLU's online Master of Social Work has a track for you.
Admissions information.
BSW Degrees and Coursework
Social workers may be some of the most in-demand professionals throughout the state of Illinois. These professionals can provide extremely valuable services to the public and provide relief to social service agencies providing vital programs to children and families.
There are multiple universities throughout Illinois that currently offer BSW options to interested learners. Bradley University and Illinois State University are just a few of the many schools that provide reliable and accredited BSW programs for students to engage with.
Typical Coursework
During your BSW program, you can take a multitude of courses that are aligned to provide you with an optimum learning experience in this treatment area. The course work often includes concepts related to the development of the social work field, in depth practical skills, and ethics regarding your services in the public domain.
The standard BSW degree program typically begins with enrollment into general education courses such as Algebra, Sociology, and Psychology. These courses can set the foundation for learning within specific treatment areas and can be accompanied by introductory courses such as the Introduction to Social Work course.
Later in the program, you may take courses like Social Work with Women, which provide students with a detailed look at the specific struggles in society that may be faced by female citizens as well as the services and supports that are available through various community programs.
School Social Work Practice is another course offering that can be incredibly beneficial to social workers that are engaging within their communities. This course can offer skills related to educational planning, IEP team support, and identifying diverse needs in the educational environment.
AD
Programs Currently Accepting Applicants
The online Bachelor of Social Work (BSW) adult degree completion program at Aurora University is built on a strong liberal arts base that prepares students for beginning social work practice with communities, groups, families and individuals in a variety of settings with diverse populations and problems.
CSWE-accredited social work program.
Click for admissions information.
Illinois BSW Careers and Salaries
According to the Bureau of Labor Statistics, social workers in the state of Illinois can earn on average $61,640 per year. This average can include social work positions in many different specialty fields, including those in social services and legal/court family support.
If you are thinking of pursuing a career in social work after receiving your BSW, you can choose from a large number of potential career fields depending on your interests. Social work positions may be separated by specialty field or can focus specifically on different treatment groups that are separated by treatment need or age.
Illinois Social Work Organizations
Some common social work positions in the state of Illinois include Healthcare Social Workers, who are responsible for providing support and guidance to individuals receiving care through hospitals or other medical care agencies. In other areas of the state, Child Welfare Social Workers can be popular options for new BSW graduates.
In child welfare, social workers may be primarily assigned a caseload of children that are in need of permanency planning, therapeutic services, and weekly visits to check well-being. Child welfare may be one of the largest fields for social workers in the U.S.
You are not limited to these particular fields after completing your BSW program. Alternative career options in School Social Work, Geriatric Social Work, and Substance Abuse Social Work may also be available for professionals in the state of Illinois.
List of BSW Programs in Illinois
Online BSW Programs to Consider
CSWE Accredited Illinois BSW Programs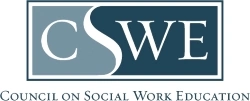 The CSWE (Council on Social Work Education) is the top accrediting board for BSW programs. Below you will find a list of CSWE accredited Bachelor of Social Work programs in Illinois. If you already have a BSW or Bachelor's in another area, you may qualify for a MSW program. View the Illinois MSW programs page.
All Bachelor of Social Work Programs in Illinois
---