<!- mfunc feat_school ->
Featured Programs:
Sponsored School(s)
<!- /mfunc feat_school ->
Social work positions of all kinds and in all spaces are growing in demand. According to the Bureau of Labor Statistics, the number of social workers will increase by 12% through 2030 – a significantly faster rate of growth than most other professions.
Likewise, according to the Bureau of Labor Statistics, the number of social work positions available yearly is approximately 78,300.
Because of these promising metrics, you really can't go wrong with social work if you seek a stable and solid long-term job. By following the steps outlined here, you'll be able to learn more about the field's general expectations and have a much easier time landing the job of your choice.
When thinking about how to become a social worker, however, it's also important to self-reflect on your personality and how it might contribute to your success – or difficulty thriving – in social work as a career.
In other words, social work is meaningful and essential, but it's not for the faint of heart. Instead, it best suits agreeable, compassionate, and open-minded personalities who are willing and ready to tackle some of humanity's most complex, pressing challenges with their clients.
This article will guide readers on what social work is, whether it is right for them, and how to become a social worker.
What Do Social Workers Do?
Social workers provide healthcare to clients through therapy-like services under varying conditions of intensity.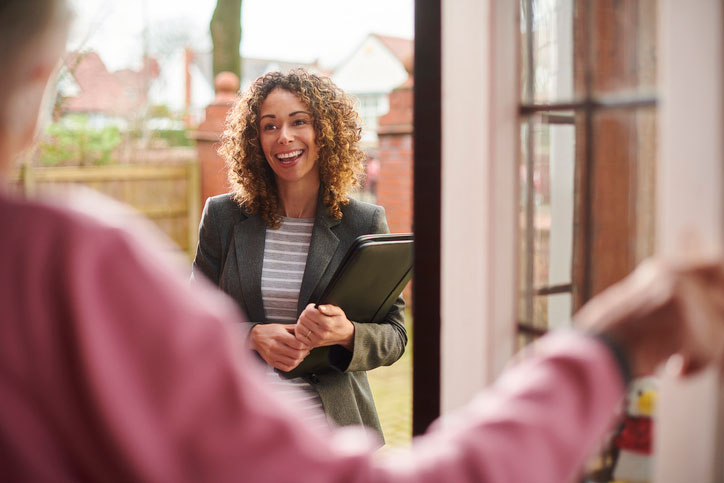 According to a research review published in the American Journal of Public Health in 2017, the direct goal of social work is to promote human health and well-being through "address[ing] some of the most complex and intractable human and social problems: poverty, mental illness, addiction, homelessness, and child abuse."
Increasingly, cognitive-behavioral therapy (CBT) is the primary method social workers use to address these problems, according to a 2012 study published in the Journal of Social Work Values and Ethics. This is why social workers often work as therapists.
Social workers also work as school counselors, provide visiting care to clients at their homes, provide care at community centers, and many even start private practices.
The intensity of being a social worker varies depending on the context, but some contexts can be extremely intense.
According to a 2005 study published in the journal Social Work in Healthcare, hospital social workers are highly prone to "emotionally intense and potentially draining cases in a setting where they are often faced with threats to their identity or existence."
Not all social work contexts are as intense as hospitals, but all demand a special kind of resilience to thrive in the role.
What Personality Traits are Best Suited to Careers in Social Work?
Openness, empathy, agreeableness, extraversion, and conscientiousness are all personality traits perfect for social workers.
The "introjective personality type," as Smith College Psychologist Lindsy Calder calls it, is one in which a person can easily take on and understand the life experiences of others.
The introjective personality type is the archetypal personality for social work. Understanding others deeply enough to communicate with them at their level is essential to practice any kind of social work effectively.
In modern psychology, personality types aren't considered so much as personality traits are. For example, the factor-five model includes conscientiousness, openness to experience, neuroticism, extraversion, and agreeableness, and all human personality widely varies on the spectrum of each trait.
Ultimately, it takes resilience to succeed in social work because the challenges practitioners face can often appear overwhelming.
The academic journal International Social Work states, "The extent that extraversion, conscientiousness, [agreeableness], and openness increase and neuroticism decreases, the personal competence component of resilience increases."
In other words, those who are extraverted, conscientious, open to experience, and agreeable tend to fare well as social workers.
Importantly, these traits can be developed through experience and study. As people learn how to become social workers, researchers in International Social Work note that students who initially do not possess these traits often gradually start to include them throughout their studies.
Hence, social work is a career path for empathetic, friendly, and hard-working individuals that aren't afraid to tackle difficult –even impossibly difficult– situations for a living.
Adapting in contexts of significant adversity is necessary, and high levels of depression and anxiety might hold you back from success in such a career path.
Above all, you must want to help others sincerely.
Steps on How to Become a Social Worker
Career plans of all kinds require a clear goal first, which are then followed by clear steps to attain it. Learning how to become a social worker as a career is no different. Education, accreditation, state-specific certification, opportunities for part-time schooling, and choosing a subfield are all important considerations in becoming a social worker.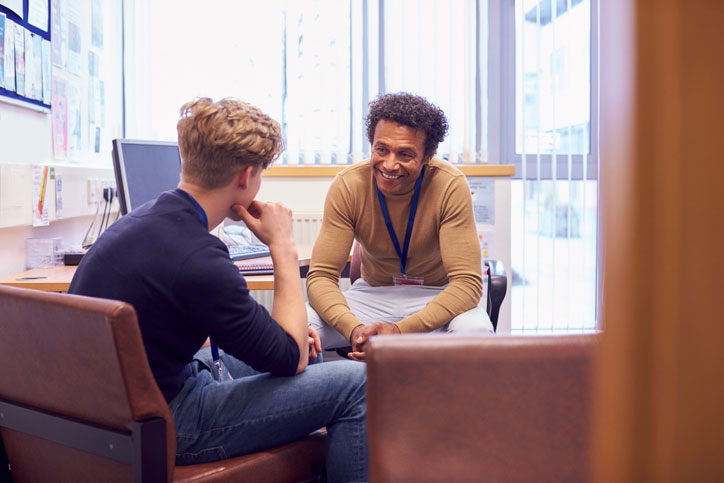 Social Worker Education Requirements
Those interested in working as social workers need to obtain a college-level education to begin working.
What education you obtain – whether a bachelor's, a Master's, a doctorate, or a certificate in social work – is a necessary step in starting a social work career. Additionally, it's necessary that prospective social workers make sure that the program they attend is accredited by the Council on Social Work Education (CSWE).
Importantly, higher degrees in social work can help improve the skillset and knowledge base social workers bring to their practice, while also improving their overall salaries.
Part-Time and Online Options
While bachelor's and Master's degrees have part-time and online options, most doctorate degrees only offer full-time options. Likewise, decreasingly, online options are no longer being used in doctorate programs as the COVID-19 pandemic ceases.
Complete the Association of Social Work Boards (ASWB) Social Work Licensing Exam
The next step in how to become a social worker is to take and pass the Association of Social Work Boards (ASWB) Social Work Licensing Exam, which students can take throughout the year at testing centers throughout the United States and Canada.
The ASWB exam works similarly to graduate-level standardized tests like the GRE, where students obtain their study materials and decide on a testing date and location for exam day.
Taking the ASWB exam costs $230 for bachelor's and master's recipients and $260 for doctorate recipients.
State-Specific Requirements
When an accredited degree or certificate has been obtained and the ASWB exam has been passed, social workers must fulfill state-specific requirements to begin practicing.
In New York, for example, a state-specific stipulation is that social workers must complete training on identifying and reporting child abuse.
These kinds of requirements will vary from state to state, so social workers must seek out their state sponsors and local mentors for guidance on fulfilling state-specific requirements to get started working.
Choosing A Social Work Focus
Once approved as licensed social workers, practitioners have many options regarding the communities they wish to serve.
Social workers can directly work with patients in various settings and under several different designations.
For example, practitioners can work in community social work, child welfare social work, forensic social work, gerontological social work, or simply as an individual clinical mental health providers.
You don't really need to decide which sub-division of social work you want to work for immediately, but going to graduate school is one great way to narrow your interest in the many focuses that the discipline offers. Importantly, some of these social work concentrations feature specific degree requirements.
Here are a few of social work's most popular designations:
Child and Family Social Worker
Child welfare and family social workers centrally work to improve the living and development conditions for children facing adversity.
At times, this means setting up foster care or adoption services for children or counseling families on behalf of the child's well-being. Child and family social work requires a Master's Degree in Social Work (MSW).
Community Social Worker
Community social workers function exactly as you might expect: they are heavily involved in community affairs with a commitment to social justice and community peace.
Clinical social workers are like therapists, ensuring the well-being of individual clients. In contrast, community social workers expand this goal to the broader community, collaborating with local officials to plan and implement strategies to improve public health and offer mental health resources.
Leaders in this field tend to be community organizers and often work at the policy level.
Forensic Social Worker
Working with clients going through corrections and the criminal justice system is the primary role of forensic social workers.
This includes working with suspects, criminals, police officers, lawyers, and judicial officials, often providing healthcare and educating and elucidating clients on their rights.
A Master's in social work (MSW) is typically required to be a forensic social worker.
Medical Social Worker
Medical social workers work in hospitals and doctor's offices. Their education includes a stronger focus on medical topics than other social work concentrations.
This is because some of the tasks involved in medical social work include helping patients understand their diagnosis and treatment plans, requiring specialized knowledge of medicine.
Medical social worker positions more often than not only hire candidates with an MSW.
Gerontological Social Worker
Geriatric social work involves assisting the elderly in various settings, including hospitals, private homes, and nursing homes.
The role of senior social work is to provide elderly individuals with as much support as possible, whether it be emotional, familial, medical, or practical.
An MSW is often the benchmark requirement to practice as a gerontological social worker.
Next Steps to Becoming a Social Worker
Social work is a viable career path well-suited to interjective students ready to aid mental health and community wellness, even when the stakes are high.
With many exciting and impactful concentrations to choose from, the growing field of social work is now more than ever an opportunity for a stable and meaningful career that saves lives. Through their direct intervention and their human-centric approach, social workers make the world a better place to live.
If you are interested in learning more about programs for social work near you, check out our social work school by state guide to begin your journey in the field.
2021 US Bureau of Labor Statistics salary and employment figures for Substance Abuse, Behavioral Disorder, and Mental Health Counselors; Social Workers; Social and Community Service Managers; reflect national data, not school-specific information. Conditions in your area may vary. Data accessed March 2023. 
Search the Top Programs in Social Work