Consider a Featured Accredited Online Social Work Program
AD
MSW Programs Currently Accepting Applicants
When you decide that you want to move forward into a MSW degree program, some things to consider include how long the program will take to complete, what platform you wish to use for your degree program, and the quality of education you can receive from your chosen university.
The accreditation process has long been the method for reviewing and modifying college education programs to ensure that they can provide students with the knowledge and information needed to be successful within their fields.
Consider a Featured Online Social Work Program
School / Program
Online Program / Entry Reqs
Advanced Standing Availability / Course Information
University of Kentucky
✔ Online

Advanced Standing Program available. MSW program includes options for an advanced-standing program (30 credits) and a 60-credit regular standing program.

Learn More
University of Denver
✔ Online
No GRE Required

Advanced Standing Program available. Two online graduate programs: a traditional MSW and an advanced standing MSW.

Learn More
University of Southern California
✔ Online
Learn More
Fordham University
✔ Online

Advanced Standing Program available. Advanced standing and traditional MSW options. Four areas of focus: Individuals and Families, Organizations and Community, Evaluation, and Policy Practice and Advocacy.

Learn More
Baylor University
✔ Online
No GRE Scores Required

Advanced Standing Program available. 2 Specializations: Clinical Practice or Community Practice. Standard MSW and Advanced Standing MSW.

Learn More
Case Western Reserve University
✔ Online
No GRE Required

Advanced Standing available. Earn your online master's in social work from Case Western Reserve University, a top-ranked school of social work. No GRE required.

Learn More
CSWE Accredited MSW Programs
There are 2 major types of accreditation to look out for when looking for a Master of Social Work program - regional and program accreditation. In order to be considered for licensure in all state, social workers must graduate from a university with a CSWE-accredited program in social work.
Regional or National Accreditation: Usually applies to the entire school in general, which leaves no individual scrutiny for specific degree programs. All universities in our directory, on this website, are - at a minimum - regionally or nationally accredited.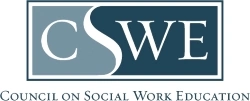 CSWE Accreditation: The Council on Social Work Education (CSWE) is the leading accreditation agency for collegiate programs in social work. This agency's seal of approval on college programs can help you rest assured that the program of your choice is reliable and includes all of the necessary aspects for a degree in social work.
According to the CSWE, there are currently 282 accredited MSW programs available throughout the country (CSWE; 2020). With these figures in mind, it is easy to assume that there is enough opportunity for advancement for students that wish to pursue higher endeavors in their education. Our team of education experts has provided a couple of CSWE-accredited schools below for you to review.
AD
MSW Programs Currently Accepting Applicants
The online MSW at the University of Kentucky is taught by faculty who are dedicated to your success and who provide diverse expertise across multiple areas of social work. Regular and Advanced Standing MSW tracks are available. Each program prepares students for effective advanced practice across the micro-macro continuum with diverse populations. CSWE Accredited.
Click for admissions information.
CSWE Accredited Social Work Certificates
---
Different Types of MSW Degrees
Social work is often divided into three broad practice categories: macro, mezzo and micro. Macro level social work is interventions provided on a large scale that affect entire communities and systems of care. Mezzo social work happens on an intermediate scale, involving neighborhoods, institutions or other smaller groups. Micro social work is the most common practice, and happens directly with an individual client or family.
Micro, Macro, Mezzo Social Work
Generally speaking, social work splits into three categories and many program areas that are subcategories. Below are the broad layers of social work – you should know these when considering a MSW program.
Online MSW Programs
Arizona State University – Online MSW
The competitive online MSW program at Arizona State University requires that applicants have the minimum of a bachelor's degree from an accredited U.S. university. Students applying at this university must provide proof of transcripts, grades, and degree acquisition to the university during the initial application process, as well as a formal statement of education/career goals and resume. As part of the acceptance process, students must also provide proof of a minimum of 240 hours of volunteer work experience or standard work experience in the field of social services. Once enrolled in this degree program, students may have the option to pursue different specializations aligned with their career goals.
Boston University School of Social Work – Online MSW
The online MSW at Boston University School of Social Work is a CSWE-accredited program that allows students to choose specializations such as Clinical Social Work and Macro Social Work. Students that have obtained a bachelor's degree in another discipline are welcome in this degree program as well as individuals that have work experience in the field of social work. Students that have this experience can take part in the Human Service Experience Track of the MSW program, which requires that applicants have 2 years of work experience in human service field. This track consists of 65 credit hours that can be completed in around 3 years. This university also offers the Advanced Standing Track for applicants that have obtained a CSWE-accredited undergraduate degree prior to entry. This track requires that students complete 40-43 credit hours for completion as well as a 1,000 hour internship.
LCSW Degree
Degrees in social work can help graduates land positions working in public service agencies, schools, and in the community. Some students that are enrolled in social work programs desire more influence within their positions, in terms of treatment and counseling.
The Licensed Clinical Social Work (LCSW) degree program is a great choice for students that want something more with their social work degree program. The LCSW distinction adds psychological assessment, diagnosis, and therapeutic capacities to the social work component of degree programs, allowing graduates from this degree program to play a larger role in the care of communities and increase in quality of care.
LCSW degrees focus on the need for compassion and intervention in public-related organizations, such as schools, community health settings, and public health agencies.
More on CSWE Accredited MSW Programs
Each year, the CSWE surveys all of the accredited programs within the CSWE. Based on the 2017 survey results PDF (the most updated and most recent format, check back in 2019 to view the 2018 results as we'll update them as soon as the data is released), we are summarizing the following:
MSW Programs: 255
Enrollment: +63,500 total
100% Online Programs: 19% (44)
Avg. loan debt: $44,000+
Certificates: 111
Enrolled Full Time: 64.8%
% Part Time Programs: 87.9%
Avg. % w/ loan debt: +77%
---
Growing Social Work Program Areas
Not surprisingly, the top program area for growth in 2017 was mental health based. According to the CSWE:
In 2017 the most popular field education practicum was community mental health, or mental health (7,692).
Other fields of study/concentration that were pouplar were: integrative health, school social work, child welfare, and family services.
Social Work Grad School Requirements
From the beginning, most graduate level social work educational programs require that students have some experience working in social services. This experience can stem from volunteer activities, such as community service opportunities or volunteering time with local social service agencies. Upcoming students that have been employed with organizations that provide services to the public can also use their experience as an advantage in these graduate level programs.
Consider the following points that are often requirements for entry into an MSW program:
Transcripts and scores: When applying for traditional or online social work programs, students may find that they must submit proof of transcripts, graduate level testing, and even a statement of work experience as part of the initial application process.
Resumes and recommendation letters: Resumes, statements of career goals, and letters of recommendations are also common at some universities offering these degree programs.
GPA restrictions or requirements: Some schools also require that students with an undergraduate GPA of less than 3.2 take part in the Graduate Record Examination prior to enrolling.
Bachelors degree: While students with a Bachelor's in Social Work are preferred, there are plenty of programs that allow students from other disciplines to enroll. Students with varying undergraduate degrees may be subjected to more credit hours, depending on their level of experience in the field of social work.
What Can I Do With a Masters in Social Work?
In a field such as social work, there are numerous opportunities for employment after obtaining a degree. Social service agencies across the country have dealings in fields that include specific age-related care, various health-related services and advocacy groups, and even in public-funded agencies and schools.
The role of the social worker can begin at a very personal level, providing support and care to clients that are going through difficult times in their life, and end with strong advocacy when confronting service providers, courts, and even insurance companies. The skills acquired through MSW degree programs can assist you in finding careers in some of the leading career fields in the country. Our team has provided a few popular fields for MSW graduates below.
Take a look at some of the possibilities available after obtaining your accredited MSW degree.
Education
Schools are a place that children should focus on their educational goals and advancement for the future. However, with the unpredictable environment provided by educational systems, there is sometimes a need for social workers on-staff to provide support and protection for students – especially in more vulnerable areas. School social workers can assist students with neutralizing stresses associated with their family, issues as school such as bullying, and the education requirements of their school.
Child/Human Welfare
Some of the most prominent social workers are found in local and state agencies focused on child and adult welfare. These social workers respond in the event that children or other vulnerable people are abused, neglected, or not provided with ample amenities for a healthy lifestyle. These professionals work directly with individuals that are suffering from these circumstances, providing support and compassion during their time of need. On the other side of the situation, welfare social workers work hard to advocate for these victims through court proceedings and follow-up services. Regular home visits, support services, and reunification with rehabilitated families are just a few services provided by welfare social workers.
Substance Abuse
As of 2014, there were 117,800 sustance abuse/mental health social workers employed throughout the United States (BLS; 2015). With the growing drug and alcohol abuse epidemic, more social workers are needed to help those suffering with addiction find programs to help them overcome their illness. Substance abuse social workers can help people locate agencies that can provide rehabilitative services, advocate for clients in court, and provide follow-up support during the recovery process.
Mental Health
People that suffer from mental illnesses are in great need of support from their families and the community. In some cases, people suffering from mental illness may not even be able to make rational decisions on their own – especially when deciding on service for their own well-being. Mental health social workers can help people suffering with mental illness during decision making processes, financial decision-making, and finding services for their needs. These social workers can work in positions in mental health facilities, hospitals, public health organizations, or community health centers.
Healthcare
Healthcare is a field that envelops the services of professionals from many different disciplines. In social work, healthcare social workers are trained to assist people that have been diagnosed with serious or chronic illnesses during important decisions and with finding the right services for their direct care. The healthcare delivery system can sometimes be a complex and confusing domain for people with no experience – especially for those that are more concerned with improving their overall health.
Salary Expectations for Social Workers with a MSW Degree
You have many options for a career once you have obtained a MSW degree. One topic that you might be pondering is the amount of money you can earn after earning your degree. Depending on the field you choose to work in, the rate of pay could be very different than others.
This incredibly diverse degree can put in your careers working for the government, in schools, social service agencies, or even for children's services. Our team of education and career experts has provided you with a list of industries and concentrations and their average salaries for you to browse. The salary information you are about to view are averages provided by the Bureau of Labor Statistics and can vary depending on location, experience, and position.
Search the Top Programs in Social Work