Consider a Featured CSWE Accredited Online MSW Program
AD
MSW Programs Currently Accepting Applicants

University of Denver - Online Master of Social Work (MSW)
-
Earn an MSW in 18 months with DU's online advanced standing program.

Fordham University - Online Master of Social Work
-
Advanced standing for qualified students with a BSW. CSWE Accredited.
Colorado MSW Programs
Schools with MSW Programs
4 MSW programs in Colorado
Social Work Licensure
Social Work Careers
Like many others states, Colorado can assist students in their pursuits of a lifelong career in social work by both supporting colleges and providing agencies to help review the accuracy of degree programs.
The Social Work Examiners Board in Colorado has a goal of reviewing the validity of college degree programs in social work so that upcoming students can rely on their education for meaningful careers in the future.
There are 5 MSW programs in Colorado, with 2 programs in Denver and 2 programs in Fort Collins. You may consider an Online MSW program.
AD
MSW Programs Currently Accepting Applicants
Students residing in this state can have the opportunity to apply to a handful of on-campus MSW programs throughout the state. Colorado State University, University of Denver, and Metropolitan State University in Denver can all be resource for students that are seeking a MSW degree for their portfolio.
People living in Denver and Fort Collins may have quicker access to MSW programs, since these 2 are the leading areas in the state for the MSW program. Colorado State University may even provide a dual degree program that is open to students that might be intrigued by the completion of both a MSW and MPH during 1 program.
Consider featured online MSW programs that are currently accepting applicants for their Master of Social Work degree.
Consider a Featured Online Social Work Program
Click the university name for information on admissions, courses, status of accreditation, and more.
| School / Program | Online Program? | Advanced Standing Availability | Course Information |
| --- | --- | --- | --- |
*Sponsored Online Social Work Programs
Online MSW Programs in Colorado
If you would like to learn more about your options for convenience and flexibility in your degree program, you should seek out online and accredited MSW programs throughout the state of Colorado. Online and accredited degree programs can potentially give you a high-quality education that can be helpful when pursuing licensure after graduation, as well as expertise throughout the duration of your career.
AD
MSW Programs Currently Accepting Applicants
The availability of online MSW programs in Colorado may be surprising to upcoming students that are new to the search for virtual learning. Colorado State University, the University of Denver, and Metropolitan State University all currently offer online MSW programs accredited by the Council on Social Work Education (CSWE).
Between these 3 programs, you may choose from specializations in Advanced Generalist Practice, Individuals and Families, Macro (Leadership and Management), and Mental Health and Trauma. Diverse offerings for degree specializations can make these programs even more attractive for undergraduate degree holders from different professional fields.
The flexibility and current reliability of CSWE-accredited programs may be part of what makes these programs so sought after among upcoming professionals with the desire to move forward with their degrees.
CSWE Accredited Colorado MSW Programs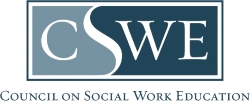 The CSWE (Council on Social Work Education) is the top accrediting board for MSW programs. Below you will find a list of CSWE accredited social work programs in Colorado.
All Social Work Programs in Colorado
AD
MSW Programs Currently Accepting Applicants
AD
MSW Programs Currently Accepting Applicants
Search the Top Programs in Social Work