<!- mfunc feat_school ->
Featured Programs:
Sponsored School(s)
<!- /mfunc feat_school ->
If you are a Florida resident who's interested in joining the social work profession but doesn't yet hold a bachelor's degree, the first step in your career trajectory will be getting your undergraduate degree.
A Bachelor's in Social Work (BSW) program is an excellent choice for aspiring social workers, as it can help fast-track your master's program and get your career started quickly.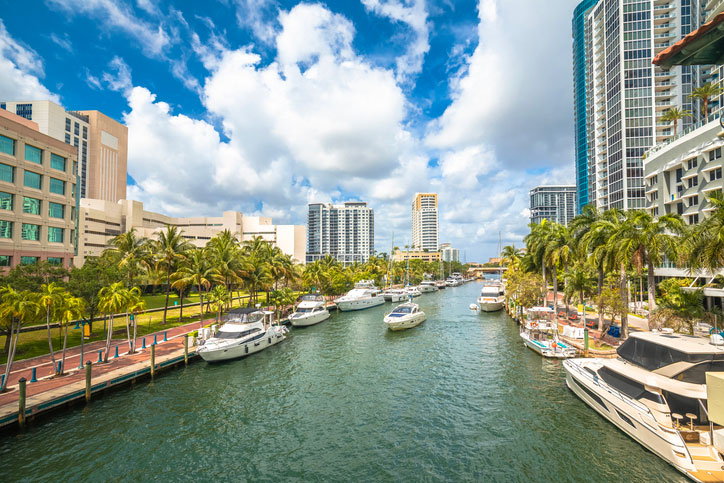 If you currently live in the state of Florida and are interested in pursuing a career that is exciting and fulfilling, a Bachelor's in Social Work could be a great option to pursue. This degree program can help learners focus on analyzing the needs of individuals in order to help them obtain needed services and supports within their community for a higher quality of life.
Campus, Hybrid, or Online?
Students seeking out bachelor's-level social work programs can choose from either traditional or online BSW programs for their program of study. Each method of degree acquisition can provide its own unique take on the learning process, which could be fitting for students with varying personal needs.
Advantages
The advantages to choosing online BSW program includes the ability to work full-time jobs while participating in a full-time degree program, the opportunity to complete assignments and tasks during the day or at night, and the value of a reliable and accredited degree program in the online setting.
CSWE Accredited Programs
People in Florida that are seeking the convenience of online CSWE-accredited BSW programs should review what is offered through the CSWE website. This organization is a leading accreditation agency for social work degree programs and can be a lasting resource for individuals preparing for a career in this field.
Already have your BSW? Check out MSW programs in Florida (includes online).
Most Popular Accredited BSW Program with a Campus in Florida
Students that participate in BSW programs in the state of Florida can enjoy the benefits of reliable and popular accredited degree options. Depending on where you live, different programs across the state could be more fitting for your needs.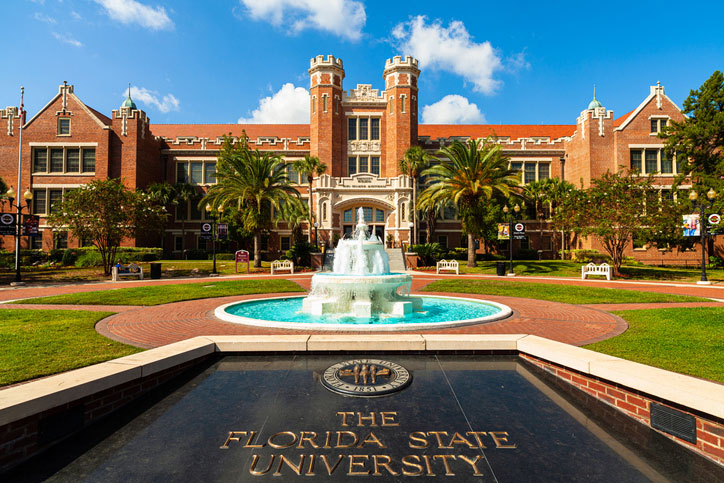 Florida State University's Bachelor of Social Work Program
One of the most popular degree programs for BSW learners within this state can be found at Florida State University. FSU has long been a well-known and highly chosen university for learners within many different disciplines and can provide you with multiple levels of support throughout your program.
The BSW program at Florida State University includes 4 semesters of courses designed to provide you with the best learning experience possible in this program area. Students may be required to complete a minimum of 38 hours of instruction and 12 hours of field work to graduate from this program.
Students participate in 512 clock hours of field experience during the program in order to gain expertise in the application of social work practice in pre-determined field placements. This type of experience can allow graduates to enter the field with a better sense of experience along their path.
If you have previously completed a associate's degree program in a related field, FSU may have shorter BSW paths for you to choose from. This university currently provides the standard 4-year option for entering students, as well as a 2-year associate's transfer program for qualifying learners.
BSW Degrees and Coursework
Florida can be a great place to pursue a Bachelor's of Social Work degree program regardless of where a student resides. Multiple universities across the state offer incredible degree programs for a wide variety of learning styles - including programs that allow flexible online learning.
UCF's BSW
The University of Central Florida is another university that offers students a competitive BSW program that includes both in-person lectures and field learning experiences. This program is one of the more popular options for students that are seeking programs within their state.
Barry University's BSW
Barry University in Miami Shores can be another option for you to consider as you sort through various BSW programs in your area. This university can provide you with a high-quality BSW program, as well as access to higher tier degrees in social work at the master's and doctoral levels.
Curriculum for Bachelor of Social Work Programs
One of the most important aspects of a degree program is its curriculum. The courses included in a program can essentially be the entirety of what molds you into a social work professional as you move close to graduation. Each program may contain unique course options with topics relevant to social work practice.
<!- mfunc feat_school ->
Featured Programs:
Sponsored School(s)
<!- /mfunc feat_school ->
Social Work Practice
Social work degree programs can provide students with access to courses such as Social Work Practice with Aging Adults and Social Work Practice with Children. These courses can provide you with information relevant to practice within different specialty areas – such as service coordination for the elderly or children.
Aging Process
These courses can also provide you with more background information into the aging process – both physically and mentally, or insight into child development to help strengthen your knowledge of the treatment group.
Case Management
Other courses such as Social Work Case Management can also be important to your development as an upcoming professional. This course can provide learners with knowledge and skills in service coordination, organization, and communication skills needed to prevail in this line of work.
A BSW perk: Advanced Standing MSWs
As mentioned above, one of the best reasons to pursue a BSW is because it can accelerate your path through an MSW degree program. This is because much of the coursework provided in a BSW program is also encompassed by the foundational material within an MSW program. Advanced Standing MSW programs are for BSW holders and typically skip significant amounts of the typical introductory classes for a master's program, allowing students to get their degrees more quickly and jump-start their professional lives.
Advanced Standing MSWs are the greatest reason to pursue a BSW degree.
While not every undergraduate student is ready to make commitments that will carry them through graduate school, if you are dead-set on pursuing a career as a social worker, this is the most expedient and efficient choice for you.
BSW Careers and Salaries
According to the Bureau of Labor Statistics, Florida-based healthcare social workers earn a mean annual wage of $58,420. Another popular career area for social work professionals in this state can be found within healthcare social work. Hospitals, insurance companies, and other medical facilities may employ social workers as additional support tools for their patients.
Child, family, and school social workers, meanwhile, earn a mean annual wage of $48,890. These social workers work for agencies providing services to children or families that have been displaced. In this area, you may have a case load of clients that need assistance with obtaining health, education, or vocational services to help better their lives.
Social workers in this field may assist their clients with obtaining needed support services, transportation, and financial assistance for needed health care. Medical social workers can be incredibly important parts of the healthcare team.
Social workers in this field may assist their clients with obtaining needed support services, transportation, and financial assistance for needed health care. Medical social workers can be incredibly important parts of the healthcare team.
If you are interested in pursuing a degree and career in social work, our team encourages you to explore the numerous options for educational training within your state. These programs can provide you with a reliable training program that can help you obtain unique careers in healthcare, education, or social services at multiple levels.
FAQs
If I intend to work in Florida, do I need a degree from a Florida-based institution?
Not necessarily. CSWE-accredited degree programs should give you the expertises needed to work in any state. That said, licensing requirements can vary from state to state, so if you move (whether to Florida or anywhere else), it's imperative that you look into the exact expectations for you.
Who should apply for a BSW?
Students who are highly motivated to pursue careers in the social work profession are the best candidates for BSW programs, as they are designed to help you reach your career goals more quickly. Those who are uncertain if they would like to pursue a social work career may still find the coursework of a BSW program interesting, but it might not be worth taking on if you aren't positive social work is your calling.
Do I need a BSW in order to pursue an MSW?
No. However, if you're certain you would like to become a social worker, it is definitely the wisest course of study for you, as it is the only route that will make you eligible for an accelerated Advanced Standing MSW option.
2021 US Bureau of Labor Statistics salary and employment figures for Social Workers, All other, reflect national data, not school-specific information. Conditions in your area may vary. Data accessed March 2023.