Consider Featured Online Social Work Programs
AD
MSW Programs Currently Accepting Applicants
The most common online degree within the Social Work area of study is the Online MSW Program. The Online Master of Social Work is typically the degree that students seek while they are currently employed. Many have earned their BSW degree, are employed within the area of social work, but see greater employment opportunities and impact if they attain their Master of Social Work.
In Short, What is the MSW?
The MSW is a Master of Social Work degree, a graduate level program within the social work area. The MSW is typically required for LMSW (or similar) social worker licensure, and the MSW degree prepares individuals to enter the social work field using a framework that emphasizes social justice, human rights, and the improvement of society as a whole. Jobs may range from clinical work with adults, to school social work with children, to grief counseling with families following the loss of a loved one.
If you have your BSW already, consider an Advanced Standing MSW to accelerate your time to completion
While the MSW degree allows individuals to work in a variety of settings and with numerous populations, there are different ways in which the MSW may be completed. One of those ways is through the Advanced Standing MSW program. Advanced Standing MSW programs are not offered at all CSWE accredited institutions. However, many exist across the country in both on-campus or online formats.
It is also important to note that not everyone is eligible for this type of MSW program, which is why it is important to understand what the Advanced Standing MSW program is, the eligibility requirements, and how this program differs from other MSW programs.
Online MSW Programs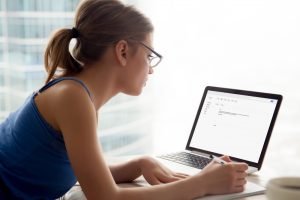 The online version of the MSW degree may be quickly becoming one of the most beneficial degree programs available at this time. Online MSW programs include flexibility and versatility that may not be present in traditional degree programs, which is one of the reasons that upcoming students are more drawn to online options.
Here is a quick list of online MSW programs. Click to jump to the fully reviewed list of MSW programs available online.
Arizona State University: Online MSW: Advanced Generalist
Baylor University: Online Master of Social Work
Campbellsville University: Online MSW: Advanced Generalist
Florida State University: Online MSW program
University of North Carolina at Chapel Hill: Online MSW, multiple tracks
University of Kentucky: Online MSW program
Consider a Featured Online Master of Social Work Program
There are a number of online MSW programs in our database, including multiple featured online MSW programs that are currently accepting applicants. The below programs are currently seeking applicants for their MSW program and are entirely online. We have provided quick information on these, including accreditation (most are CSWE accredited), if they have an Advanced Standing MSW program for those with a BSW, and more. Click to go directly to their MSW program website to review more information about their admissions requirements and to get with their admissions department to ask further questions.
Consider a Featured Online Social Work Program
School / Program
Online Program / Entry Reqs
Advanced Standing Availability / Course Information
University of Denver
✔ Online
No GRE Required

Advanced Standing Program available. Two online graduate programs: a traditional MSW and an advanced standing MSW.

Learn More
University of Southern California
✔ Online
Learn More
Ohio University
✔ Online

No GRE or GMAT required. Complete in as few as 24 months. Adult Mental Health, Child, Family, and School, and Social Policy.

Learn More
Fordham University
✔ Online

Advanced Standing Program available. Advanced standing and traditional MSW options. Four areas of focus: Individuals and Families, Organizations and Community, Evaluation, and Policy Practice and Advocacy.

Learn More
University of Kentucky
✔ Online

Advanced Standing Program available. MSW program includes options for an advanced-standing program (30 credits) and a 60-credit regular standing program.

Learn More
Baylor University
✔ Online
No GRE Scores Required

Advanced Standing Program available. 2 Specializations: Clinical Practice or Community Practice. Standard MSW and Advanced Standing MSW.

Learn More