Consider a Featured CSWE Accredited Online MSW Program
AD
MSW Programs Currently Accepting Applicants

University of Denver - Online Master of Social Work (MSW)
-
Earn an MSW in 18 months with DU's online advanced standing program.

Fordham University - Online Master of Social Work
-
Advanced standing for qualified students with a BSW. CSWE Accredited.
West Virginia MSW Programs
Schools with MSW Programs
3 MSW programs in West Virginia
Social Work Licensure
Social Work Careers
Students considering higher paying positions in the field of social work may question the benefit of progressing into a masters-level program. The truth is - with more and more people having the ability to complete bachelors programs in the U.S., students may need to pursue a masters in order to stand out from the large crowd of potential job applicants. West Virginia can be an exciting place to pursue a MSW program to help advance your career.
There are 3 MSW programs available for you to review in this state in popular cities such as Bethany, Morgantown, and Athens.
Consider featured online MSW programs that are currently accepting applicants for their Master of Social Work degree.
Consider a Featured Online Social Work Program
Click the university name for information on admissions, courses, status of accreditation, and more.
| School / Program | Online Program? | Advanced Standing Availability | Course Information |
| --- | --- | --- | --- |
*Sponsored Online Social Work Programs
Social Work Agencies and Accreditation in West Virginia
If you are curious about which colleges can offer you this opportunity, you should take a closer look at schools such as Bethany College, Concord University, and West Virginia University. Each of these colleges consist of MSW programs that can partner with you to meet the licensing standard put into place by the West Virginia Board Of Social Work Examiners.
Each program is accredited by the CSWE, making them excellent choices for students that are seeking reliable and license-worthy degree programs.
AD
MSW Programs Currently Accepting Applicants
Online MSW Programs in West Virginia
There may be many different reasons for students to seek out flexible options for their college degree. Some students choose to pursue online MSW programs in an attempt to balance their daily work schedule with their desire to achieve more in their professional lives. If you are like many others in the state of West Virginia, you might be interested in learning how an online MSW can benefit you on your journey to better career opportunities.
Online MSW programs are subject to the same type of review and accreditation as traditional programs. Since a lot of these programs utilize the same instructors as traditional degree options, students can gain the same information regardless of which platform is used.
Consider a MSW Specialty Track
Online MSW programs can also allow students to choose specialization options with their general MSW degree. Specializations were added in an effort to help students focus their research on particular subjects or groups, so that they can make a bigger difference in society. Child, Youth, and Family Social work is one of the most popular concentration options for the MSW degree program.
However, students can choose from other options such as Clinical Social Work or School Social Work in their program. The online setting can be a great place for students to learn time management skills, self-discipline, and organizational skills that can benefit them throughout their career.
CSWE Accredited West Virginia MSW Programs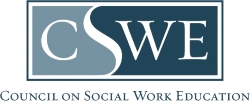 The CSWE (Council on Social Work Education) is the top accrediting board for MSW programs. Below you will find a list of CSWE accredited social work programs in West Virginia.
All Social Work Programs in West Virginia
AD
MSW Programs Currently Accepting Applicants
AD
MSW Programs Currently Accepting Applicants
Search the Top Programs in Social Work