Consider a Featured CSWE Accredited Online MSW Program
AD
MSW Programs Currently Accepting Applicants

University of Denver - Online Master of Social Work (MSW)
-
Earn an MSW in 18 months with DU's online advanced standing program.

Fordham University - Online Master of Social Work
-
Advanced standing for qualified students with a BSW. CSWE Accredited.
Kansas MSW Programs
Schools with MSW Programs
4 MSW programs in Kansas
Social Work Licensure
Social Work Careers
If you live in Kansas you are probably already aware of the great collegiate opportunities available throughout the state.
Social work professionals in this state may be in high demand, making the MSW a great option for residents seeking higher education. From border to border, Kansas currently has 4 MSW programs available for you to choose from.
Whether you are closer to popular MSW cities such as Wichita or Topeka, there may be degree options suitable for what you require.
Some of the universities that are more popular for MSW earners may include the University of Kansas and Wichita State University. A couple of others for your consideration are Newman University and Washburn University. Each one of these schools may offer CSWE-accredited MSW programs for you to engage with.
Consider featured online MSW programs that are currently accepting applicants for their Master of Social Work degree.
Consider a Featured Online Social Work Program
Click the university name for information on admissions, courses, status of accreditation, and more.
| School / Program | Online Program? | Advanced Standing Availability | Course Information |
| --- | --- | --- | --- |
*Sponsored Online Social Work Programs
Online MSW Programs in Kansas
There may be no better feeling that successfully completing your desired degree. Some of the most qualified social work professionals may hold a MSW degree, making it a great option for you to pursue.
If you would like even more convenience with your degree program, you should choose degree programs in Kansas that can be completed through the online domain.
Online MSW programs may be gaining popularity with residents of Kansas, especially since they can offer the same level of reliability and credibility as traditional MSW programs.
Specialization Tracks
Students enrolling in online MSW programs may have the opportunity to choose a specific path for their studies. Some of the most popular concentration options for social work professionals may be Clinical Social Work, Child and Family Social Work, and Adult Social Work.
Each of these specializations can lead you into working with specific groups that you may be more concerned with providing support for.
AD
MSW Programs Currently Accepting Applicants
What to Expect in an Online MSW Program
In an online MSW program, you may be expected to engaging in course projects concerning research topics of your choice, supervised internship experiences, and even professional debates with some of your classmates.
Students may find some of the same elements found in traditional education programs in their online experience.
More on CSWE Accreditation and MSW Programs in Kansas
What is the purpose of accreditation? The Council on Social Work Education (CSWE) is responsible for reviewing your degree program and its curriculum in order to determine if it meets the national standard for social work education.
Colleges work very hard to maintain their accreditation, which can be necessary in the event you want to become licensed.
People interested in becoming licensed should obtain an accredited MSW and follow the remaining steps put into place by the Kansas Behavioral Science Regulatory Board.
CSWE Accredited Kansas MSW Programs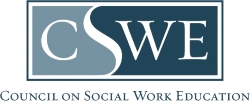 The CSWE (Council on Social Work Education) is the top accrediting board for MSW programs. Below you will find a list of CSWE accredited social work programs in Kansas.
All Social Work Programs in Kansas
AD
MSW Programs Currently Accepting Applicants
AD
MSW Programs Currently Accepting Applicants
Search the Top Programs in Social Work