Consider a Featured CSWE Accredited Online MSW Program
AD
MSW Programs Currently Accepting Applicants

University of Denver - Online Master of Social Work (MSW)
-
Earn an MSW in 18 months with DU's online advanced standing program.

Fordham University - Online Master of Social Work
-
Advanced standing for qualified students with a BSW. CSWE Accredited.
Delaware MSW Programs
Schools with MSW Programs
1 MSW programs in Delaware
Social Work Licensure
Social Work Careers
If you have graduated with your BSW or are simply seeking for paths of entry to the field of social work, the MSW could be a great option for you, particularly the Advanced Standing MSW.
MSW programs in Delaware may welcome students from both BSW programs as well as bachelors degree programs in related disciplines.
Delaware State University is currently the leading provider for CSWE-accredited degree programs in social work in both the online and traditional format. If you might be interested in taking part in this career path, you should read more about what is required of you for future licensure.
Consider featured online MSW programs that are currently accepting applicants for their Master of Social Work degree.
Consider a Featured Online Social Work Program
Click the university name for information on admissions, courses, status of accreditation, and more.
| School / Program | Online Program? | Advanced Standing Availability | Course Information |
| --- | --- | --- | --- |
*Sponsored Online Social Work Programs
Online MSW Programs in Delaware
More people everyday may be utilizing the internet to help with tasks, communication, and education. The influx of online degree programs may be changing the way that students view higher education in a positive way. Delaware currently provides their residents with an online MSW program that contains the highest level of accreditation for social work degree programs.
The University of Delaware in Dover consists of a CSWE-accredited online MSW program that is suitable for even the busiest of adults. If you are like many other residents within this state, you may be looking for reliable options for your education that can help advance your career in the field of social work.
AD
MSW Programs Currently Accepting Applicants
Delaware has just one MSW program. You may consider a online MSW programs which allow for a great deal of flexibility. There are quite a few programs that are even CSWE accredited.
MSW Program Formats
Generally speaking, the MSW is available in full-time, part-time, and advanced standing formats. Each of these options may hold benefits for different students, so you should research what each may require from you prior to enrolling.
Delaware State University can allow students to choose a specialization in Advanced Generalist Social Work, which can be a great choice for students interested in influencing different sectors of society, rather than just one specific group. The online format of the MSW may be a more preferred option for those that have busy work schedules or families to look after due to its flexibility with class attendance and due dates.
More on MSW Programs in Delaware
The state of Delaware has an agency that is responsible for reviewing applications for licensure. The Board of Clinical Social Work Examiners in Delaware may be your leading resource for determining whether or not your degree program meets the minimum standard.
As a rule of thumb, CSWE-accredited degree programs may always be your best bet for gaining approval. While Dover is the leading city for social work degree programs in this state, residents from all over may be eligible for entry into this program.
CSWE Accredited Delaware MSW Programs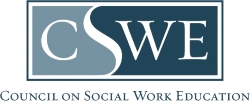 The CSWE (Council on Social Work Education) is the top accrediting board for MSW programs. Below you will find a list of CSWE accredited social work programs in Delaware.
All Social Work Programs in Delaware
AD
MSW Programs Currently Accepting Applicants
Delaware State University
Master in Social Work (MSW)
AD
MSW Programs Currently Accepting Applicants
Search the Top Programs in Social Work