Consider a Featured CSWE Accredited Online MSW Program
AD
MSW Programs Currently Accepting Applicants

University of Denver - Online Master of Social Work (MSW)
-
Earn an MSW in 18 months with DU's online advanced standing program.

Fordham University - Online Master of Social Work
-
Advanced standing for qualified students with a BSW. CSWE Accredited.
Pennsylvania MSW Programs
Schools with MSW Programs
20 MSW programs in Pennsylvania
Social Work Licensure
Social Work Careers
The state of Pennsylvania is an excellent place to get started on the path to becoming a master's level social work professional. Throughout the state, there are numerous colleges offering MSW programs to willing participants.
There are multiple on-campus options for CSWE accredited MSW programs in Pennsylvania.
In addition to local online universities, you may also apply to out of state universities offering online MSW programs. You should research the requirements of your state prior to applying to an online university that is located out of your current state of residence.
Online MSW Programs
Online MSW programs are becoming more popular with busy college students. In Pennsylvania, there is no lack of availability for online degree programs for students that are looking for this type of educational convenience. One of the leading online universities throughout the state of Pennsylvania is Edinboro University.
Located in Edinboro, Pennsylvania, this university currently offers an online MSW degree program to interested students. This program in particular requires that students complete an online application and submit a $30 application fee. It is important for students to also send proof of graduation from an accredited university to the university along with the application, as well as a professional resume, personal statement, and 2 letters of recommendation.
Consider featured online MSW programs that are currently accepting applicants for their Master of Social Work degree.
Consider a Featured Online Social Work Program
Click the university name for information on admissions, courses, status of accreditation, and more.
| School / Program | Online Program? | Advanced Standing Availability | Course Information |
| --- | --- | --- | --- |
*Sponsored Online Social Work Programs
One of the most prominent universities offering a MSW program is the University of Pennsylvania. In the great city of Philadelphia, the University of Pennsylvania hosts students in one of the oldest social work programs in the country. This high ranking program offers students both full-time and part-time options for pursuing their degree.
Across the state in the great city of Pittsburgh, students at the University of Pittsburgh are also given the option of pursuing a MSW degree throughout their college experience. This innovative program has been in session since 1918, and continues to be one of the leading MSW programs in the country. While Philadelphia and Pittsburgh are some of the leading cities for MSW degree programs, there are still plenty of programs to choose from at universities located between these 2 throughout the state.
AD
MSW Programs Currently Accepting Applicants
Licensing Requirements for a LCSW in Pennsylvania
The state of Pennsylvania clearly outlines the expectations of Licensed Clinical Social Workers within their state. Through the State Board of Social Workers, Marriage and Family Therapists, and Professional Counselors, our team was able to identify some of the requirements set forth for upcoming professionals.
Applicants for licensure must hold a Master's degree or higher in Social Work or Social Welfare from a university that is accredited by the Council on Social Work Education. The applicant must also complete the state board examination for LCSW professionals and submit proof of 3,000 hours of supervised clinical experience under the supervision of a LCSW. Once these stipulations have been met, applicants can be approved for licensure as a clinical social worker in the state of Pennsylvania.
Social Work Careers in Pennsylvania
Social workers that work with children, families, and schools have the opportunity to be a guiding light for people in all stages of life. There are currently 18,580 professional social workers in this field in the state of Pennsylvania, making this a popular place for upcoming professionals to find a career (BLS; 2016).
Healthcare social workers are more concerned with helping patients find the services they need for better health. In Pennsylvania, there are 7,280 healthcare social workers making a difference in the lives of others throughout the state (BLS; 2016). Healthcare social work can be a great way to get involved with the overall health of the community through advocacy and consultation services.
People that are interested in mental health and rehabilitation could be a great addition to the field of social work as a mental health and substance abuse specialist. There are currently 10,170 social workers in this field throughout the state of Pennsylvania (BLS; 2016).
Since social workers can be found in nearly any field involving service to people, this category includes a lot of diverse career options in the field of social service. This field has the lowest current number of professionals in Pennsylvania and comes in at around 1,210 for the entire state (BLS; 2016).
CSWE Accredited Pennsylvania MSW Programs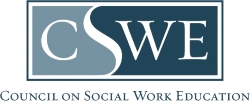 The CSWE (Council on Social Work Education) is the top accrediting board for MSW programs. Below you will find a list of CSWE accredited social work programs in Pennsylvania.
All Social Work Programs in Pennsylvania
AD
MSW Programs Currently Accepting Applicants
AD
MSW Programs Currently Accepting Applicants
Search the Top Programs in Social Work