Consider Featured Online Social Work Programs
AD
Programs Currently Accepting Applicants
Online BSW programs may be growing in popularity as technology continues to change the way that educational programs are delivered. Most educational programs at the collegiate level offer some form of technology integration - regardless of whether the program is traditional or online.
As a learner in the online environment, you can take advantage of the flexible learning environment that allows you to complete work at your own pace. Most online programs do not require students to log in at certain times and provide clear and future due dates at the onset of the course.
Finding a BSW Program in Virginia
There are a number of campuses in Virginia that have an undergraduate social work degree option. Here is a snippet of campus based Virginia BSW programs:
Christopher Newport University
George Mason University
Hampton University
James Madison University
Virginia Commonwealth University
Virginia State University
Virginia Wesleyan College
While you read deeper into this guide, consider the type of learning experience that would be most beneficial for your current walk of life. Convenient online BSW programs can provide you with the high-quality education you need in the best type of setting.
You might consider an online BSW program that is currently accepting applicants or click here to jump to the full list of Virginia BSW programs.
Consider a Featured Online Social Work Program
Popular Accredited BSW Program
Making the decision to pursue an online BSW program can be life-changing for upcoming learners. In today's society, online programs can provide you with the same level of qualify as in-person programs - due to program accreditation from the CSWE.
One university in Virginia that is attracting a high number of learners each year is Liberty University. Liberty currently offers a versatile online BSW programs for students that are intrigued by the field of social work and interested in training through BSW programs.
AD
Programs Currently Accepting Applicants
Earn your CSWE accredited online Master of Social Work (MSW) from a university that's pioneered social work education for every generation in need of it: Our Lady of the Lake University. 100% online, No GRE or GMAT is required for admission, and whether you have a bachelor's in social work or have a calling to work in this important field, but graduated with a bachelor's degree in another subject, OLLU's online Master of Social Work has a track for you.
Admissions information.
Why Consider Learning Online?
If you choose online BSW programs for your learning experience, you can work on course work at any time of the day or night. One of the most incredible advantages to these programs is that most courses do not have any specific log-in requirements other than a minimum of 2 log-ins per week.
Online programs can allow you to engage in self-discipline with your course work and provide you with access to virtual resources for your studying. Many students engaging in online programs can continue working full-time jobs while they study.
BSW Degrees and Coursework
Virginia students that are on the search for accredited BSW programs are encouraged to review the programs offered by James Madison University, Norfolk State University, and Radford University. These universities have CSWE-accredited BSW programs that are open to enrollment for interested individuals.
The general layout of BSW programs begins with a 4-year program from start to finish. The first year of your program may consist of entry-level courses like Introduction to Social Work, which can provide you with generalist information about this field and its history.
AD
Programs Currently Accepting Applicants
The online Bachelor of Social Work (BSW) adult degree completion program at Aurora University is built on a strong liberal arts base that prepares students for beginning social work practice with communities, groups, families and individuals in a variety of settings with diverse populations and problems.
CSWE-accredited social work program.
Click for admissions information.
Sample BSW Courses
The first and second year of your program can also consist of general education courses that can expand your knowledge, increase your skills in professional writing, and help you brush up on mathematical skills prior to entering the field. Most bachelor's level programs have general education requirements for students to complete prior to moving into degree-specific courses.
Social Work Practice, Studies, and Community
In the third and fourth year of your program, you may delve deeper into the social work curriculum that includes both social work practice and studies within different practice areas. Courses like Social Work Practice in the Community can give you a widespread view of social programs, social problems, and treatment planning skills in this setting.
Child and Family Social Work, School Social Work
Courses like Child and Family Social Work or School Social Work can allow you to gain skills relevant within these specific practice areas and give you insight into some of the common social problems faced in these areas. Regardless of which specialty you choose to pursue after graduation, having practice in multiple areas can add to your capabilities as a professional working in the community.
While not all BSW programs contain an internship requirement, some programs allow students to participate in them for class credit. During these in-person experience, you may have the option to intern for social work agencies within your community.
These experiences can provide you with observational opportunities to learn from current social workers and in some cases give you hands-on experience working with actual clients in the field. You are encouraged to review your prospective program's curriculum to learn more about these internships.
BSW Careers and Salaries
The role of the social worker in society can be overall treatment planning, advocacy, or family support. Each client that receives social services may have unique needs, experiences, and struggles for you to address.
Popular career options for social workers in the state of Virginia can be found through the child and family welfare division. Social workers in this practice area may be assigned a caseload of children and be responsible for ensuring they receive adequate health, mental health, educational, and advocacy services.
Where Do Social Workers Work?
Some social workers in this state can work for non-profit organizations that partner with the courts to provide support to individuals and families going through legal proceedings. These agencies may employ you to attend court hearings and assess current provisions for the clients you are assigned.
Other fields that you can consider when seeking out career opportunities can include educational social work and healthcare social work. Since these are some of the largest fields for professionals, pursuing social work positions can provide you with lasting career opportunities working with vulnerable populations.
Salaries
If you are interested in learning more about the earning capabilities of social work professionals in your state, you might be interested to know that the average salary for social workers in the state of Virginia is currently $69,650 per year. This average was provided by the BLS and includes actual earning figures from current social work professionals employed in Virginia.
List of BSW Programs in Virginia
Online BSW Programs to Consider
CSWE Accredited Virginia BSW Programs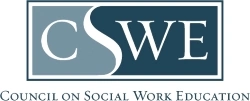 The CSWE (Council on Social Work Education) is the top accrediting board for BSW programs. Below you will find a list of CSWE accredited Bachelor of Social Work programs in Virginia. If you already have a BSW or Bachelor's in another area, you may qualify for a MSW program. View the Virginia MSW programs page.
All Bachelor of Social Work Programs in Virginia
---