Consider Featured Online Social Work Programs
AD
Programs Currently Accepting Applicants
There are many different reasons why choosing a BSW degree program can set you up for a successful future. The BSW degree program can be a diverse learning experience that allows students to explore multiple dimensions of their community in a effort to create better service providers and client supporters.
Considering an Online BSW Program
The influence of technology in the field of education can be extremely beneficial for incoming learners seeking out unique and flexible learning opportunities for their degree experience. Online BSW programs can allow students to pursue their goal of graduation through online courses, self-learning, and self-discipline during the learning process.
If you are interested in pursuing online BSW programs for your future career, you can learn more about these accredited programs through this website as well as the CSWE website. This organization is responsible for the accreditation of both traditional and online BSW programs. Universities in New Jersey with a BSW Program include:
Monmouth University
Ramapo College of New Jersey
Rutgers University (Camden, New Brunswich, Newark
Seton Hall University
Stockton University
Consider an online BSW program that is currently accepting applicants or click here to jump to the full list of New Jersey BSW programs.
Consider a Featured Online Social Work Program
Campus Based New Jersey Bachelors of Social Work Programs
New Jersey universities providing social work degree programs can be found at multiple locations across this state. Rutgers, the State University of New Jersey, Monmouth University, and Stockton University are alternative college that are currently providing BSW programs to prospective learners.
Different universities may offer variable completion times, multiple start dates, and unique in-person experiences depending on where you enroll. A good way to learn more about each program before making your choice is reviewing the program's degree expectations and curriculum before making your choice.
Popular Accredited BSW Program
When making a decision on an accredited BSW program to enroll in, you may be faced with multiple options to choose from. Each program may have its own unique curriculum and expectations for enrolled learners, which can make it really important for you to thoroughly review the degree expectations of each one.
AD
Programs Currently Accepting Applicants
Earn your CSWE accredited online Master of Social Work (MSW) from a university that's pioneered social work education for every generation in need of it: Our Lady of the Lake University. 100% online, No GRE or GMAT is required for admission, and whether you have a bachelor's in social work or have a calling to work in this important field, but graduated with a bachelor's degree in another subject, OLLU's online Master of Social Work has a track for you.
Admissions information.
Seton Hall University: BSW in New Jersey
A popular university that sees high numbers of applications in its social work program is Seton Hall University. Seton Hall offers a competitive BSW program that offers learning in social work practice, research, and a specific delve into each sector of social service provision.
Like most bachelor's degree programs, most students can complete this BSW in around 4 years at a full time rate. One of the benefits of choosing online and hybrid programs is that these options are most often offered in part-time or full-time statuses.
While Seton Hall University is a popular degree option for interested learners in the field of social work, there are multiple programs in New Jersey that can offer you the same benefit of high quality educational programs. Take a look below to learn more about other programs and what is included in them.
Sample BSW Courses
Most BSW programs begin with entry into general education courses required for all undergraduate degree programs. Learning in these subject areas can provide you with a warm-up for more focused learning and provide you with skills that can assist you in generalization of your skills to different treatment areas.
More in-depth learning into the social work field typically begins in year 2-3 in the BSW program. At this point, you may start taking courses that are more structured around the function and practice of social work professionals in multiple specialty areas.
| Course | Description |
| --- | --- |
| Social Environments and Human Behaviors | Courses like Human Behavior and the Social Environment may be typical in the BSW program, since it can provide learners with some insight into the decision making process of individuals, social influences of behavior, and socioeconomic factors that come into play when working with different community groups. |
| Policy in Social Welfare | Social Welfare Policies is a course that can help you to explore the formation of the social service field and the implementation of various principles and policies in this area of expertise. This course can be helpful in your development of personal ethics surrounding social work practice and your memorization of the rules and expectations of practice with the public. |
| Statistics in Behavioral Science | Students in the BSW program may also participate in Statistics for Behavioral Sciences as a means for understanding how to establish a baseline for social programs based upon current levels of activity or behavior. This course can be an important building block for later research in this field. |
AD
Programs Currently Accepting Applicants
The online Bachelor of Social Work (BSW) adult degree completion program at Aurora University is built on a strong liberal arts base that prepares students for beginning social work practice with communities, groups, families and individuals in a variety of settings with diverse populations and problems.
CSWE-accredited social work program.
Click for admissions information.
New Jersey BSW Careers and Salaries
Social work professionals may be assigned to work with groups or individuals in society that are in need of services and supports for life improvement. Since needs can be diverse depending on the service area, you may find yourself potentially working in a wide variety of settings throughout your career.
Social Worker Salaries
Social workers in the state of New Jersey can earn $68,630 on average each year. This average salary information was provided by the BLS and is based upon the real wages of actual social workers employed within this state.
When seeking careers in the social work field, you can look to fields like social services, education, healthcare, and criminal justice along the way. Entry-level social workers in these practice areas may conduct assessments on their clients, develop thorough treatment plans, and follow-up to monitor progress and make adjustments as needed.
Where Social Workers Can Be Employed
In some cases, social workers may also meet with their clients anywhere from once a week to once a month to discuss challenges or needs. These face-to-face meetings can make social work practice more personable and allow for connections to be made regularly with clients.
Fields that hire social workers for client advocacy may also require that social workers provide services to groups or families. Part of your training at the educational level may include social work practice with groups, which can be a challenging but fulfilling experience in social work practice.
List of BSW Programs in New Jersey
Online BSW Programs to Consider
CSWE Accredited New Jersey BSW Programs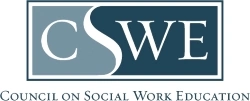 The CSWE (Council on Social Work Education) is the top accrediting board for BSW programs. Below you will find a list of CSWE accredited Bachelor of Social Work programs in New Jersey. If you already have a BSW or Bachelor's in another area, you may qualify for a MSW program. View the New Jersey MSW programs page.
All Bachelor of Social Work Programs in New Jersey
---