Consider Featured Online Social Work Programs
AD
Programs Currently Accepting Applicants
Ohio can be an incredible place to become involved in the field of social work. All over the state, universities may be available to provide reliable and reputable BSW programs to learners prepared to go the distance to make a difference in the lives of others.
If you are the type of person that gets satisfaction from providing valuable services to those in need, the Bachelor of Social Work program may be the right option for you to pursue.
Considering Online
Many students in today's society may choose online degree programs as their primary options for higher education. Online programs can allow students to attend courses from their own homes and log in to their courses at times that work for them. These are the most frequent reasons that students in this state pursue online degree options.
As you read through this guide, consider what type of population you would prefer to work with in the field of social work. This can help you choose a program that is best fitting and assist you in identifying which career field would be more suitable for you to pursue after graduation.
Consider a Featured Online Social Work Program
Popular Accredited BSW Program
Searching for a BSW program can be a process that includes a lot of thought and consideration for incoming learners. Each program may have unique attributes that are fitting for some students, making it important for you to consider these different aspects before making your final choice.
University of Cincinnati Has An Online BSW Option
One of the most chosen degree programs in social work throughout the state of Ohio is the University of Cincinnati's online BSW. This online BSW currently holds accreditation from the CSWE and includes relevant topics in social work practice, ethics, and specific treatment for different specialized groups in society.
Intriguing factors related to online BSW programs include the ability to complete work at your own pace and the opportunity to engage with your classmates through an innovative online classroom. Many students choose the online BSW due to heavy work schedules and the inability to attend class on campus several days per week.
The University of Cincinnati's online BSW consists of 57 credit hours and can be completed in around 4 years. The program may also be suitable for learners that have previously completed an associate's degree program in a field related to social work, sociology, or psychology.
AD
Programs Currently Accepting Applicants
Earn your CSWE accredited online Master of Social Work (MSW) from a university that's pioneered social work education for every generation in need of it: Our Lady of the Lake University. 100% online, No GRE or GMAT is required for admission, and whether you have a bachelor's in social work or have a calling to work in this important field, but graduated with a bachelor's degree in another subject, OLLU's online Master of Social Work has a track for you.
Admissions information.
BSW Degrees and Coursework
Residents of Ohio that are seeking out reliable BSW programs to jump-start their careers can choose from a variety of options within their local areas. Universities that currently offer online BSW options include Malone University, Union Institute and University, and Ursuline University.
Each of these universities currently hold accreditation from the CSWE and provide reliable online degree programs for students on the go. Most online BSW programs can be completed in around 4 years and include topics relevant to social work practice with varying treatment groups.
AD
Programs Currently Accepting Applicants
The online Bachelor of Social Work (BSW) adult degree completion program at Aurora University is built on a strong liberal arts base that prepares students for beginning social work practice with communities, groups, families and individuals in a variety of settings with diverse populations and problems.
CSWE-accredited social work program.
Click for admissions information.
Sample BSW Courses
When you enroll in an online BSW program, you may begin your experience with courses like Introduction to Social Work Practice.
Social Work Practice: This course can help you learn more about how the field of social work was developed, the various social problems that led to the formation of this field, and an outline of the different treatment groups within society.
Advanced Assessment and Interviewing: As you move forward in your program, you may take more advanced courses such as Advanced Assessment and Interviewing. Since a lot of the responsibilities of social workers lies in providing needed services, your skills in assessment and planning should be top notch in order to provide your clients with all of the services that they need.
Leadership and Social Change: Many of the courses in your BSW program may be focused on specific areas of treatments and the development of needed techniques. Generalized courses like Leadership and Social Change can also be beneficial for learners as they study more into societal demands, the changing social climate, and the expectations of social service providers throughout the state.
The curriculum of your BSW program may be required to include many diverse topics according to its accreditation standards. From program to program, these courses may be listed under different names, but all are required to contain the same level of information for enrolled learners.
Ohio BSW Careers and Salaries
As you work through your BSW program, you may come to realize that the role of the social worker can include many different specific aspects. Social workers can find careers in the public domain, non-profit agencies, or social services agencies within their community.
In addition to these popular social work settings, social workers can identify specific groups to work with within their titles, such as Child and Family Social Workers, Addiction Social Workers, School Social Workers, or Adult Social Workers.
Each specific treatment professional in the field of social work can contribute significantly to the improvement of lives within the community. Since social workers are responsible for the assessment, treatment, and advocacy of their clients, they can be incredibly valuable professionals for Ohio residents.
If you are interested in becoming a social work professional through involvement in BSW programs, you can expect to earn a salary of $51,490 on average each year. This average salary can change depending on your area of practice, treatment group, and your overall amount of work experience in the field.
List of BSW Programs in Ohio
Online BSW Programs to Consider
CSWE Accredited Ohio BSW Programs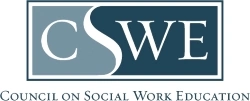 The CSWE (Council on Social Work Education) is the top accrediting board for BSW programs. Below you will find a list of CSWE accredited Bachelor of Social Work programs in Ohio. If you already have a BSW or Bachelor's in another area, you may qualify for a MSW program. View the Ohio MSW programs page.
All Bachelor of Social Work Programs in Ohio
---