Consider Featured Online Social Work Programs
AD
Programs Currently Accepting Applicants
The Bachelor of Social Work (BSW) degree program is an excellent degree option for students considering careers involved with helping others. The BSW program can be found at universities across the United States, in both traditional and online format.
BSW Programs in Hawaii
Online BSW programs can provide students with the most flexible learning experience at the bachelors level. Online programs may include the same curriculum found at traditional institutions and also offer the same level of quality to those enrolled.
Here are some universities with a BSW Program in Hawaii:
Brigham Young University
Hawaii Pacific University
Click here to jump to the full list of Hawaii BSW programs.
Consider a Featured Online Social Work Program
At the bachelors level, students may be provided with a broad outlook on social work practice for individuals, groups, and specialized needs groups such as geriatric populations, children and adolescents, and even individuals receiving extended medical or rehabilitative care.
If you are considering entry into a BSW degree program, this may be your first experience with college degree programs at this level. Most universities allow for a smooth transition into college-level courses by requiring general education courses alongside social work-specific classes.
BSW Degrees and Coursework
You may expect to take courses like Introduction to Psychology and College Algebra as part of your degree requirements, since these courses are part of the general education requirements for most bachelors degree programs. In some programs, classes like Sociology and History can also be included.
BSW programs can also allow you to explore social work practice through courses like Social Work Practice in Schools and Social Work Practice with Families. Each course in the social work curriculum can provide you with practical skills from various vantage points in society.
AD
Programs Currently Accepting Applicants
Earn your CSWE accredited online Master of Social Work (MSW) from a university that's pioneered social work education for every generation in need of it: Our Lady of the Lake University. 100% online, No GRE or GMAT is required for admission, and whether you have a bachelor's in social work or have a calling to work in this important field, but graduated with a bachelor's degree in another subject, OLLU's online Master of Social Work has a track for you.
Admissions information.
Why a BSW?
Since the main purpose of the BSW is to prepare you for providing services to people, some degree options require that students participate in in-person practicum or internships prior to the end of their program. Some schools may suggest various locations for you to consider or you may locate your own placement in your home town.
The internship requirement typically takes place in the later semesters of your degree program. This is so you can utilize the skills and knowledge that you have gained through your program during your experience with actual professionals and clients in the field.
Graduation from a BSW program can help you qualify for many entry-level positions in the social work field. Many learners completing this program apply directly to MSW programs on their path to their dream career.
AD
Programs Currently Accepting Applicants
The online Bachelor of Social Work (BSW) adult degree completion program at Aurora University is built on a strong liberal arts base that prepares students for beginning social work practice with communities, groups, families and individuals in a variety of settings with diverse populations and problems.
CSWE-accredited social work program.
Click for admissions information.
Most Popular BSW Accredited Program
Residents of the state of Hawaii most often choose the University of Hawaii in Honolulu as their primary target for enrollment. This university has long been the school of choice for students pursue varying degree fields and offers CSWE-accredited BSW programs for you to choose from.
The University of Hawaii's BSW program includes a degree curriculum that offers insight into the history and development of the social work field, as well as thorough information regarding treatment of individuals in varying cultures found in Hawaii and beyond. Students enrolled in this program can be provided with an unbiased look at client values, social systems, and common treatment methods for people in need.
This program typically takes around 4 years to complete for learners enrolled at a full-time rate. In some cases, students can complete this program quicker by taking more classes each semester and completing all practicum requirements along the way.
If you live in Hawaii and are seeking a career field focused on helping people in need, the BSW program could be a great option to pursue. The University of Hawaii has multiple start dates per year for you to enroll.
BSW Careers and Salary
The Bureau of Labor Statistics reports that social workers in the state of Hawaii can earn around $81,520 per year on average. This salary data includes social workers in multiple fields and social workers that provide varying services to those in need.
Graduates of BSW programs that are new to the field of social work often take on careers in social services or mental health as their entry-level options. These careers are usually focused on providing case management services to their clients and advocating for the needs of vulnerable populations.
In some cases, graduates may also work for positions in hospitals or treatment centers housing medically-fragile patients or those seeking long-term rehabilitative care. The role of the social workers in these settings may be to arrange for specialized services, establish treatment programs, or even develop transition plans for their clients as they plan their release from these facilities.
Social workers can often be the bridge of information and knowledge between a client and the services being received. If you are intrigued by careers that offer comfort, support, and guidance for individuals in need, the BSW program can be your first step to pursuing a position in this field.
List of BSW Programs in Hawaii
Online BSW Programs to Consider
CSWE Accredited Hawaii BSW Programs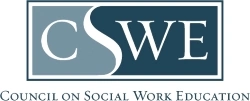 The CSWE (Council on Social Work Education) is the top accrediting board for BSW programs. Below you will find a list of CSWE accredited Bachelor of Social Work programs in Hawaii. If you already have a BSW or Bachelor's in another area, you may qualify for a MSW program. View the Hawaii MSW programs page.
All Bachelor of Social Work Programs in Hawaii
Brigham Young University-Hawaii
Brigham Young University-Hawaii
Hawaii Pacific University
---