Consider Featured Online Social Work Programs
AD
Programs Currently Accepting Applicants
Students in today's educational environment may look for convenience alongside their desire to pursue higher education due to the demand for continued employment during the learning experience. Online degree programs in social work can provide students with the opportunity to learn while remaining employed, making online programs a popular choice for new collegiate learners.
Here is a quick snippet of on-campus colleges in Arizona that have a BSW program:
Considering an Online BSW Degree
Online Bachelor of Social Work programs in Arizona can include virtual classrooms that offer individual and group communication tools, access to a multitude of online resources, and instant submission of homework and research assignments. Communication in the online environment can often be quicker and more convenient than what is offered in the traditional learning setting.
If you are searching for BSW programs within the state of Arizona, you are encouraged to read more in this guide pertaining to CSWE-accredited programs in your area. You can potentially learn more about what is involved in the degree process and career opportunities available to you after finishing your degree.
Consider a Featured Online Social Work Program
BSW Degrees in Arizona
Alternative degree programs offered to future social work professionals in this state can be found at Arizona State University, Northern Arizona University at Yuma, and the University of Phoenix. Since all of these programs hold current CSWE accreditation, any of them could be excellent choices for your degree.
BSW degrees were designed to provide learners with entry-level skills and expertise in the field of social work, which can lead to entry into many case management and social service positions in the field after graduation.
AD
Programs Currently Accepting Applicants
Earn your CSWE accredited online Master of Social Work (MSW) from a university that's pioneered social work education for every generation in need of it: Our Lady of the Lake University. 100% online, No GRE or GMAT is required for admission, and whether you have a bachelor's in social work or have a calling to work in this important field, but graduated with a bachelor's degree in another subject, OLLU's online Master of Social Work has a track for you.
Admissions information.
Popular Accredited BSW Program at NAU
As you search for the perfect BSW program in Arizona, you might see that there are many different options to choose from for enrollment. One of the first factors to consider is the accreditation of the programs you are reviewing.
Accredited degree programs are considered to be the highest quality and can potentially lead you to licensure in the field of social work. Arizona's accredited online degree options may often be the most popular for incoming learners.
Northern Arizona University's online BSW can provide students with a convenient means of learning completely in the online environment. This 4-year program can be an excellent choice for new learners that are prepared for an intensive and fulfilling learning experience.
During this program, you may participate in individual research projects, group assignments, and internships to help strengthen your skills in the field of social work. This majority of this program can be completed from the comforts of your very own home.
Sample BSW Courses
The curriculum of the BSW program includes concepts related to practice with certain groups, such as Social Work Practice with Children and Families and Social Work Practice with Addiction. Each of these courses can allow you to practice skills in assessment and treatment planning relevant to the needs of each population.
Social Work Practice

Within these courses, you might expect to participate in project related to social work practice with groups and individuals. You may explore concepts related to environmental modification, health and mental health services, and even self-care for social service workers during these classes.

Social Issues and Problems

Popular topics in BSW programs may also include Social Problems, which is a course dedicated to helping students learn more about some of the most common issues in social work like poverty, crime, and addiction. This course can be extremely enlightening to students interested in providing services to individuals affected by these issues.
In some programs, students may also have the opportunity to participate in supervised experience periods or internships. These activities typically take place in an actual social service agency and can allow learners to be trained by actual social workers in the field.
Students participating in online programs may have the option to pursue internships within their local area, adding to the convenience of online learning. Some agencies offering internships may also participate in interns-to-hire programs for career opportunities after graduation.
AD
Programs Currently Accepting Applicants
The online Bachelor of Social Work (BSW) adult degree completion program at Aurora University is built on a strong liberal arts base that prepares students for beginning social work practice with communities, groups, families and individuals in a variety of settings with diverse populations and problems.
CSWE-accredited social work program.
Click for admissions information.
BSW Careers and Salaries
Before you take the plunge into BSW programs, our experts recommend that you explore the career field of social work to determine which field would be the best choice for you to pursue. There are many different practice areas that can fit the interests and experiences of students, many having a high demand for new social work graduates.
Social workers in the state of Arizona may have the benefit of pursuing a career in several different specialized areas with a BSW degree. Social work is an incredibly versatile field that can lead you into practice within several of the largest career fields in the U.S.
Healthcare is one of the most popular career fields for BSW graduates in Arizona. Medical social workers can work alongside patients as they receive care from hospitals or health facilities, helping to organize services, insurance, and follow-up services for their clients.
Child and family social workers may work with displaced children or families involved in the welfare system. The role of social workers in this field can include child advocacy, service provisions, and reunification planning and services.
Salaries
As a social worker in Arizona, you can potentially earn around $61,130 per year on average. This average is based on actual earnings of social work professionals in Arizona and is the most recent report from the Bureau of Labor Statistics.
List of BSW Programs in Arizona
Online BSW Programs to Consider
CSWE Accredited Arizona BSW Programs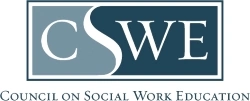 The CSWE (Council on Social Work Education) is the top accrediting board for BSW programs. Below you will find a list of CSWE accredited Bachelor of Social Work programs in Arizona. If you already have a BSW or Bachelor's in another area, you may qualify for a MSW program. View the Arizona MSW programs page.
All Bachelor of Social Work Programs in Arizona
---