Consider Featured Online Social Work Programs
AD
Programs Currently Accepting Applicants
Deciding to pursue a degree in the popular field of social work can be an exciting experience for students in the state of Nebraska. Once you have decided on a field to pursue, you should begin searching for colleges that can provide you with a high quality learning experience that can contribute to a successful future in your field.
BSW Programs in Nebraska
Here are some universities with a BSW Program in Nebraska:
Chadron State College
Creighton University
Nebraska Wesleyan University
University of Nebraska at Omaha
Click here to jump to the full list of Nebraska BSW programs.
You might consider learning about available online BSW programs.
Consider a Featured Online Social Work Program
BSW Tracks or Specializations
BSW programs offered through the University of Nebraska, Union College, and Creighton University consist of a dense curriculum include components related to the formation of the social welfare field as well as important concepts related to social work practice in the field.
Most BSW programs within this state take on a generalist approach to social work practice, which can provide you with the skills you need to pursue careers in many different fields after graduation. Nebraska learners can also take advantage of 100% online BSW programs offered within their state for maximum flexibility during their learning experience.
AD
Programs Currently Accepting Applicants
Earn your CSWE accredited online Master of Social Work (MSW) from a university that's pioneered social work education for every generation in need of it: Our Lady of the Lake University. 100% online, No GRE or GMAT is required for admission, and whether you have a bachelor's in social work or have a calling to work in this important field, but graduated with a bachelor's degree in another subject, OLLU's online Master of Social Work has a track for you.
Admissions information.
BSW Degrees and Coursework
Whether you are a new or returning bachelor's learner, the BSW can allow you to easily transition into the collegiate learning experience. Beginning with general education courses, this program can provide you with relevant skills in English, Algebra, and Humanities within the first 2 years of your program, with the final years focusing more on social work practice and field development.
In the online BSW program, students can participate in learning from the comforts of their very own home. Online BSW programs can be completed within the same time frames as traditional learning programs and consist of the same type of accreditation from the CSWE.
AD
Programs Currently Accepting Applicants
The online Bachelor of Social Work (BSW) adult degree completion program at Aurora University is built on a strong liberal arts base that prepares students for beginning social work practice with communities, groups, families and individuals in a variety of settings with diverse populations and problems.
CSWE-accredited social work program.
Click for admissions information.
Typical BSW Coursework to Expect
The courses that you take throughout your program all can play a role in the development of your knowledge of the field and your practical abilities. Common introductory courses found within the BSW program include Developmental Psychology, Human Behavior and the Social Environment, and Cultural Diversity.
As you move closer to the end of your program, you may engage in learning in more focused social work courses like Social Work Practice with Individuals and Social Work practice with Groups. Each of these learning options can provide you with excellent techniques related the assessment and treatment planning for diverse clients in the field.
Most BSW programs in Nebraska may also include a practicum and internship component prior to the end of the program. These opportunities can be extremely important to your professional growth and can allow you to observe and practice your skills prior to working for social work agencies in the field.
Popular CSWE Accredited BSW Program
Learners in today's society may be seeking flexible alternatives to the traditional BSW program. The University of Nebraska at Kearney currently offers the online 100% online and CSWE accredited BSW program in the state.
Due to the convenience offered by this program, it is one of the most popular options for new applicants in the field of social work. This program requires no campus visits throughout the duration of the program and allows students to participate in courses that allow learning at their own pace.
The University of Nebraska at Kearney's online BSW program can also be completed at a full-time or part-time rate, making it a great option for students with diverse needs. Students from all over the state are encouraged to apply to this convenient program since it has no registration restrictions for Nebraska residents.
The online BSW can be a great alternative for students considering the BSW but without the free time to consider in-person programs. The quality and opportunity available within this program is equal to what you can find in Nebraska's on-campus programs across the state.
Nebraska BSW Careers and Salary
Social workers that pursue careers in the state of Nebraska have the potential to earn $62,040 per year on average. This salary data is provided by the Bureau of Labor Statistics and was computed using actual reported earnings from professionals in multiple social work career fields.
Depending on which population you are drawn to the most, there may be multiple opportunities for you to consider after graduating from your BSW program. If your target treatment group is children, a career in social services, mental health, or school social work can be an excellent choice to consider.
Social workers that have the desire to work primarily with groups, families, or adults may find their place in popular social work fields like rehabilitation case management, family advocacy, or even substance abuse social work. Healthcare social work positions can also allow you to work with clients in all age groups.
One of the most fascinating aspects of pursuing the BSW program is that it can lead you into different directions after graduation. Many students choose to immediately enter the field to provide services to those in need while others move on to MSW programs in order to pursue a specialization and learn more about the assessment and treatment of these groups through advanced training.
List of BSW Programs in Nebraska
Online BSW Programs to Consider
CSWE Accredited Nebraska BSW Programs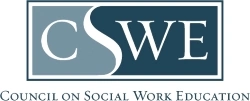 The CSWE (Council on Social Work Education) is the top accrediting board for BSW programs. Below you will find a list of CSWE accredited Bachelor of Social Work programs in Nebraska. If you already have a BSW or Bachelor's in another area, you may qualify for a MSW program. View the Nebraska MSW programs page.
All Bachelor of Social Work Programs in Nebraska
---