Consider Featured Online Social Work Programs
AD
Programs Currently Accepting Applicants
Students searching for reputable Bachelor of Social Work (BSW) programs in Alaska may have access to degree options within their very own state. Popular cities for pursuing BSW programs include Anchorage and Fairbanks - both locations being home to the University of Alaska campuses.
BSW Programs in Alaska
Learners seeking BSW programs to help prepare for a fulfilling career in social work can benefit from choosing degree options with current CSWE accreditation. All 3 program options available to learners in Alaska currently hold this type of accreditation, which can lead to licensure within your state.
One of the most interesting aspects of Alaska's BSW programs is that they can allow learners to engage in specialized programs that teach social work practice with specific indigenous populations. This type of study can provide you with the knowledge you need to provide direct and relevant services to individuals within your local area.
Consider a Featured Online Social Work Program
Alaska Online BSW Degrees
If you reside in the state of Alaska, you can enroll in BSW programs through multiple University of Alaska locations. The University of Alaska at Fairbanks offers both in-person and online options and the University of Alaska at Anchorage provides an in-person degree experience.
Typical BSW Coursework to Expect
Most BSW programs across the U.S. contain around 4 years of course work including both general education and social work courses. In order to establish specialized skills for use in the field, you might indulge in classes like Social Work Practice with Individuals and Social Work Practice with Groups throughout your program.
Interestingly enough, most BSW programs can provide you with the opportunity to participate in an internship experience prior to the end of your program. This is a unique factor for bachelors-level programs, since most field experiences take place at the masters level in most degree concentrations.
This on-site experience can allow you to visualize social work practice in multiple agencies, such as child services, mental health, or even within healthcare social work agencies. Internship experiences can take place throughout individual semesters depending on the university you choose.
AD
Programs Currently Accepting Applicants
Earn your CSWE accredited online Master of Social Work (MSW) from a university that's pioneered social work education for every generation in need of it: Our Lady of the Lake University. 100% online, No GRE or GMAT is required for admission, and whether you have a bachelor's in social work or have a calling to work in this important field, but graduated with a bachelor's degree in another subject, OLLU's online Master of Social Work has a track for you.
Admissions information.
Most Popular BSW Accredited Program
Incoming students in the state of Alaska most often choose the University of Alaska at Fairbanks for their BSW program. This school offers versatile learning options that can be suitable for learners with various needs for their personal learning style.
UA's BSW options also currently both hold CSWE accreditation, which makes them highly reliable degrees for students pursuing licensure within their field. Some states require licensing for graduates at the bachelors level, while others only require licensing at the masters level and above.
The University of Alaska at Fairbanks offers both traditional and online BSW options, making it a great option for new college students seeking in-person learning options or returning adult learners in need of flexibility during their degree experience.
AD
Programs Currently Accepting Applicants
The online Bachelor of Social Work (BSW) adult degree completion program at Aurora University is built on a strong liberal arts base that prepares students for beginning social work practice with communities, groups, families and individuals in a variety of settings with diverse populations and problems.
CSWE-accredited social work program.
Click for admissions information.
BSW Careers and Salary
One factor that makes social work an incredibly popular field for new learners is that the career opportunities can be vast and versatile. Social work graduates at the bachelors level can pursue careers working with children and families in social services agencies, which can include holding a case load of clients, conducting home visits, or even advocating for clients in the court setting.
Social work professionals may also pursue careers in healthcare, allowing them to work with patients of healthcare facilities in need of guidance while navigating complex and multidimensional healthcare services and insurance. Most healthcare social work positions require that applicants hold at least a bachelors degree in order to apply.
Other popular career options for bachelors-level social work professionals can include case management opportunities in mental health, rehabilitation, or even within legal aid agencies. You should choose a career path that includes the groups you are most passionate about helping.
If you currently live in Alaska and are pursuing a Bachelor of Social Work, you can potentially earn $72,530 per year on average. The type of career path you choose and the demand for social workers in your area may affect your total earnings within your field.
List of BSW Programs in Alaska
Online BSW Programs to Consider
CSWE Accredited Alaska BSW Programs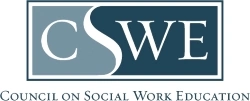 The CSWE (Council on Social Work Education) is the top accrediting board for BSW programs. Below you will find a list of CSWE accredited Bachelor of Social Work programs in Alaska. If you already have a BSW or Bachelor's in another area, you may qualify for a MSW program. View the Alaska MSW programs page.
All Bachelor of Social Work Programs in Alaska
University of Alaska Anchorage
💻 Campus
Bachelor of Social Work (BSW)
University of Alaska Fairbanks
💻 Campus
Bachelor of Social Work (B.S.W.)
University of Alaska, Fairbanks (AK)
💻 Online
Bachelor of Social Work
Same curriculum content, structure, and accreditation standards as the campus based program.
Online BSW
CSWE Accredited
---