Consider Featured Online Social Work Programs
AD
Programs Currently Accepting Applicants
Iowa offers online BSW programs that can allow learners to gain the education and experience needed to find entry-level positions in the field. A popular location for BSW programs in Iowa, besides college towns like Iowa City or Cedar Falls, is Sioux City, since it provides both in-person and online learning opportunities for students enrolled.
Here are some universities with a BSW Program in Iowa:
Briar Cliff University: Campus based BSW and Online BSW
Buena Vista University
Dordt College
Loras College
Simpson College
University of Iowa
University of Northern Iowa
Click here to jump to the full list of Iowa BSW programs.
You might consider learning about available online BSW programs.
Consider a Featured Online Social Work Program
BSW Programs in Iowa
The BSW program is an incredible introductory degree option for new and returning college students seeking recession-proof career opportunities. Social work professionals can provide essential services in a wide variety of career fields and have multiple practice options to choose from during their career experience.
BSW options may be available all over the state of Iowa, including colleges such as Clarke University, Dordt College, and Loras College. BSW programs offered through these schools currently hold accreditation from the Council on Social Work Education (CSWE).
Throughout the BSW program, you can learn specialized skills in cultural diversity, individual assessment, and service provisions. Having the generalized knowledge of social work provided at this level can help you find careers helping individuals that mean the most to you.
AD
Programs Currently Accepting Applicants
Earn your CSWE accredited online Master of Social Work (MSW) from a university that's pioneered social work education for every generation in need of it: Our Lady of the Lake University. 100% online, No GRE or GMAT is required for admission, and whether you have a bachelor's in social work or have a calling to work in this important field, but graduated with a bachelor's degree in another subject, OLLU's online Master of Social Work has a track for you.
Admissions information.
BSW Degrees and Coursework
Bachelor of Social Work degree programs were designed to help transition new college students into specialized treatment fields throughout the duration of their 4-year program. During the first years of your BSW, you can expect to take several general education classes to help sharpen your skills in professional writing and calculation.
Typical BSW Coursework to Expect
While the skills gained through general education courses may not be directly related to social work practice, they can allow you to exercise indirect business skills that can be beneficial during case note documentation requirements, billing, and even the location of needed community services.
Diversity in Social WOrk
Later in your BSW program, you can start to engage in courses that directly correspond with the work you plan to do in the field. Diversity in Social Work is a course that can allow you to explore social work practice from multiple viewpoints, including those that may be most relevant to your treatment area.
Practice of Ethical Social Work
Ethical Social Work practice is a required class in the BSW program that shows case study example of appropriate and inappropriate behavior in accordance to outlined professional ethics. Learning in this course can provide you with an excellent foundation for providing reliable and ethical services to those being treated.
In Person Practicum
In addition to specific coursework in social work practice, you may have the opportunity to participate in in-person practicum experience throughout your program. Some BSW options offer multiple opportunities during the 4-year program, while others offer only 1 internship option near the end of the degree program.
Most Popular Online BSW Accredited Program
Students participating in online or traditional BSW programs in the state of Iowa may more often choose Briar Cliff University for their degree experience. This university maintains high popularity due to it offering in-person and completely online BSW programs.
Each of the degree options available at this school have received CSWE-accreditation, making them high-quality and reviewed options for you to consider. The online version of the BSW even offers full-time and part-time enrollment options for students in need of more flexibility with their learning experience.
Briar Cliff University's Online BSW Program
Many learners throughout the entire state of Iowa choose Brian Cliff for their program since it requires no campus visits throughout the entire program. Students that choose to participate in internship experiences can even locate a placement within their local area to add to the overall convenience of the program.
If you are an incoming student in the state of Iowa, you should choose a degree program that fits all of your needs for the learning experience. Local programs, online programs, and even those offer flexible enrollment options can be found all over your state.
AD
Programs Currently Accepting Applicants
The online Bachelor of Social Work (BSW) adult degree completion program at Aurora University is built on a strong liberal arts base that prepares students for beginning social work practice with communities, groups, families and individuals in a variety of settings with diverse populations and problems.
CSWE-accredited social work program.
Click for admissions information.
Iowa BSW Careers and Salary
Graduates that become social work professionals in the state of Iowa can potentially earn an average salary of $60,070 per year. This average is based on statistics provided by the Bureau of Labor Statistics and provides averages based on actual social workers currently in the field.
With your BSW degree, you can potentially pursue careers as in-home family support workers who are responsible for establishing helpful program plans for increasing positive behaviors, developing healthy relationships, and creating appropriate boundaries for families in need.
Social work professionals can also work for human services agencies responsible for providing families with nutritional support and financial assistance during times of need. Professionals working in this specialized area may be employed by local government agencies or through non-profit organizations.
One of the most popular career options for BSW holders can be found in case management positions for varying agencies. Case managers may hold a caseload of clients and coordinate their care and services as required through an organized treatment plan.
List of BSW Programs in Iowa
Online BSW Programs to Consider
CSWE Accredited Iowa BSW Programs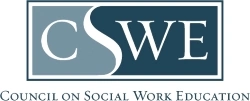 The CSWE (Council on Social Work Education) is the top accrediting board for BSW programs. Below you will find a list of CSWE accredited Bachelor of Social Work programs in Iowa. If you already have a BSW or Bachelor's in another area, you may qualify for a MSW program. View the Iowa MSW programs page.
All Bachelor of Social Work Programs in Iowa
---